[cmsms_row][cmsms_column data_width="1/1″][cmsms_text]
The Community Foundation for the Alleghenies is distributing nearly $300,000 in its 2017 Fall Grant round, a record distribution for this foundation. Through funds managed by the CFA, 80 organizations in Bedford, Cambria, Indiana, and Somerset counties will receive a combined $298,401.
These grants range from a few hundred dollars each to over ten-thousand, and serve the community in a variety of ways: feeding the hungry and sheltering the homeless; providing job training and life skills to people in transition; purchasing equipment for local fire and emergency service crews; filling educational gaps in arts and sciences; upgrading technology and shoring up infrastructure for nonprofit facilities; empowering grass-roots organizations to implement and expand youth programs; supporting urban green spaces and other environmental improvements; and much, much, more.
Over $55,000 is being spent in Somerset County, where nearly half of the grants are meeting essential community needs. The First Christian Church's Backpack Program is a great example. The church provides weekend meals to children who are considered "food insufficient," in a school district where more than half of students qualify for free or reduced-price meals. A $2,000 CFA grant to First Christian Church goes directly toward food for young people, many of whom may otherwise spend their weekends hungry.  Similar to other youth backpack programs that the Foundation has supported, this all-volunteer group has been packing and handing out weekend meals since 2013, serving as many as 78 children a year.
[/cmsms_text][cmsms_gallery layout="gallery" image_size_gallery="blog-masonry-thumb" gallery_columns="4″ gallery_links="lightbox" animation_delay="0″]10172|https://cfalleghenies.org/wp-content/uploads/2017/11/IMG_1425-150×150.jpg,10175|https://cfalleghenies.org/wp-content/uploads/2017/11/IMG_1438-150×150.jpg,10176|https://cfalleghenies.org/wp-content/uploads/2017/11/IMG_1440-150×150.jpg,10174|https://cfalleghenies.org/wp-content/uploads/2017/11/IMG_1435-150×150.jpg[/cmsms_gallery][cmsms_text animation_delay="0″]
Take a look at the attached county-by-county breakdown of the 2017 Fall Distribution for every project and organization receiving a grant. Funding for this distribution comes from a variety of places. More than a third comes from funds established by private donors, who collaborate with the Community Foundation to manage and distribute money they've provided for individual causes. Another third comes from an anonymous foundation dedicated to funding community-building initiatives throughout Southwestern Pennsylvania.  Indiana County receives funding from the Bork Family Fund, an endowment created by an Indiana family to serve that area, and Somerset County receives additional benefits from the Somerset County Community Fund, which was established nearly 20 years ago by a group of Somerset County residents to meet their own community's needs.
What becomes clear as you read through the details of this distribution is the incredible impact donors are having on our communities, by collaborating with the Community Foundation for the Alleghenies. Every single one of these grants empowers individuals and organizations working in our communities to make our communities better. Through our growing distributions, donors are community leaders, supporting projects that improve our quality of life, bolster our economy, and create pathways to a better tomorrow.
Here are county by county highlights:
Bedford County
In Bedford County, the largest grant went to the Southern Alleghenies Museum of Art to provide lighting for its new Bedford Fine Arts Museum, inside Bedford's historic Anderson House. This museum establishes the first fine art collection in Bedford, creates an educational resource for local schools, and strategically links Bedford to other communities housing SAMA collections.
Other funding highlights:
Upgrades to the Bedford County Fireman's Association's Fire School
Combatting the region's declining and aging population through the Bedford County Chamber of Commerce's Youth Leadership Summit, with business and leadership programs targeting high schoolers
Support for mental health therapies and other resources through HOPES, Bedford County's only drop-in mental health center
Cambria County
The CFA's Community Initiatives Fund provided $50,000 to the Western Pennsylvania Conservancy to purchase and plant trees throughout the city, combating blight and beautifying the county's urban center.
Here are some other programs being funded:
Continuing support for Johnstown's Vision 2025 initiative, with funding for supplies for its Capture Teams
Catholic Charities' homeless shelter in Dale Borough, helping to fill a gap created by the organization's loss of federal funding
A student-led, student-run, lending library through the Greater Johnstown School District, improving literacy with library boxes placed throughout 24 Johnstown neighborhoods
Indiana County
The Visiting Nurse Association is improving care to rural patients in Indiana County, with funding to bring its administrative technology up to date.
CFA grants in Indiana will also provide:
Early interventions for children with special needs, and support for their families, through expanded programming with accessAbilities, Inc.
Personal protective gear for members of Indiana County's Special Medical Response Team, which supports emergency responders under extraordinary circumstances, often involving armed suspects, natural disasters, or non-traditional environments
Vision screenings at local preschools and kindergartens for early detection of vision problems, and assistance to people with impaired vision, so those individuals can maintain their independence
Somerset County
The largest grant in Somerset County provides heating fuel for low-income families through the Salvation Army's Operation Warm Hearts.
Other grants are also providing essential services, like:
A new program to help homeless families and individuals fill funding gaps and transition to stable housing through the Next Step Center
Nutritious food for low-income families through the Somerset County Mobile Food Bank, the Somerset Area Food Pantry, First Christian Church, and Francis Sharing and Caring, which also helps those families pay their utility bills
Equipment for a program to support adults living with autism, so they can live independently, through Skills of Central Pennsylvania, Inc.
Multi-County
Nearly $54,000 in funding affects communities that cross county lines. Those include:
Families from Somerset and Indiana counties meeting the federal poverty guidelines who turn to Family House, Inc. for temporary shelter and meals
Rural communities throughout our region who could connect to the September 11th Memorial Trail by implementing plans for the Mainline Trail in Cambria County.
Veterans living throughout our region, who will benefit from mental health programs, employment services, and other outreach programs through Veteran Community Initiatives, Inc.
In addition to determining this CFA-record distribution, Fall Grant Distribution Committees considered a record number of applicants: 116. CFA funding is part of the nonprofit, grassroots engine that is now the built into the fabric of our communities – but we cannot lose sight of the fact that every fund, every donor, tells an individual story. Those stories empower us all through collaboration, integrity, and leadership.
Here's a list of every 2017 Fall Grant awarded, and here's a chart showing how these grants were funded: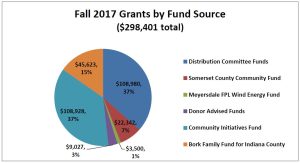 [/cmsms_text][/cmsms_column][/cmsms_row]