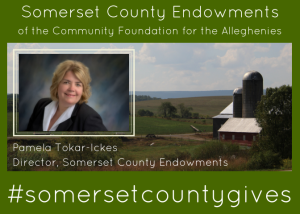 CFA Somerset County Endowments Director Pamela Tokar-Ickes penned a column taking an optimistic look at the nationwide revolution toward stronger communities emerging from America's small towns. Here at the Community Foundation we have the joy of partnering with many of the people and organizations who are fueling this revolution through acts of kindness large and small.
You can read the column below, or as it was published in the Daily American's October 29 edition.
The Revolution Underway for Better Communities
By CFA Somerset County Endowments Director Pamela Tokar-Ickes
Across the country, there's a quiet revolution taking place.* Its hallmark is optimism. It's driven by ingenuity. And it's happening in America's small towns, where the cost of living is relatively low, where neighbors still know each other, and where one person or small group of people can do something that ripples throughout an entire community. It's here, in small towns, where one person can make a big difference.
It's happening here in Somerset County. It's roots are in our DNA.
Somerset, Inc., is teaming up with the Mary Biesecker Library and Laurel Arts to provide live concerts and outdoor movies. These free events will change the local entertainment landscape for local families.
With an efficient, well-organized program in place, the Somerset County Mobile Food Bank serves 10 communities and supplements food pantries throughout the county. What started as one pastor's interest in the disproportionate cost of food for rural Americans has grown into a grass-roots network of organizations run by volunteers providing healthy meals to neighbors in need.
Somerset Library established a Science Technology Engineering Arts and Math program to supplement what our young people have access to through local schools. The library extended the program's reach by making it mobile, lending out Lego kits and hands-on teaching tools to other organizations who want to use them.
Each of these programs was empowered by individual funds established through the Community Foundation for the Alleghenies.
We live in a part of the world where a dollar still goes a long way, and the financial support necessary for implementing new ideas isn't insurmountable. At CFA, we have the joy of seeing our donors' individual funds bring communities to life, and we're connected to our community in ways that help us put those funds to the greatest use – so they have the greatest possible impact.
It's easy to look around at our changing world and feel outnumbered – especially if, like me, you're not under 30. You may not know how your smart phone can start your car and answer your front door, but you still have good ideas for improving life here for your children and grandchildren.
When you partner with CFA, you're part of a team that has the knowledge and resources to make sure your good intentions make a real difference.  If you want that difference to last long after you're gone, talk with us or your financial advisor about including your community in an estate plan. This is a way for you to leave a legacy in Somerset County and know it's carried out with integrity. When you do this, our partnership lasts forever.
The revolution sweeping through our country is driven by hometown heart and a willingness to work hard and try something new. Whether you join our Legacy Society, make a donation to the Somerset County Community Fund for our #SomersetCountyGives Campaign, or talk with us about creating another fund for something we haven't thought of yet, you're part of it. Every act of kindness fuels this revolution.
Let us harness your kindness and channel it into the change you have in your heart. Start at home. Start now. Start with CFA.
*Our Towns, a 100,000 Mile Journey into the Heart of America, by James Fallows and Deborah Fallows