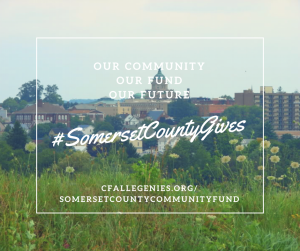 The #SomersetCountyGives campaign has raised $225,000 for Somerset County nonprofits, reaching a quarter of its goal in just four months. 
The Community Foundation for the Alleghenies' Somerset County Endowments launched the campaign in January to bolster the Somerset County Community Fund (SCCF) with an additional million dollars over the next five years. The SCCF is a permanent endowment dedicated to supporting nonprofit activity specifically in Somerset County. Adding a million dollars to that fund will triple its available grant money.
This campaign is an opportunity to pool local resources for an impactful, permanent, nonprofit funding source. "This is truly a community-wide effort," adds Somerset County Endowments Director Pamela Tokar-Ickes. "From private individuals to locally based companies, #SomersetCountyGives is bringing together everyone who loves Somerset County and cares about its future." 
Somerset Trust Company emerges, once again, as a community leader, rallying residents with a pledge to match $100,000 in donations. This means anyone who contributes to the fund will see that donation double, up to $100,000. We hope to reach this goal in the next 60 days.
"Somerset County's future is important to all of us who live and work here," says Somerset Trust Company CEO G. Henry Cook. "We hope the matching grant will motivate others to give to help improve the quality of life, which has a far-reaching benefit for all."
The campaign committee, made up of local residents, business, and civic leaders, is actively reaching out to the corporate community and all previous endowment donors. Outreach so far has been met with optimism and enthusiasm.  
Since it was created nearly 20 years ago, the Somerset County Community Fund has awarded nearly $250,000 in grants to more than 80 local nonprofits. This funding supports education initiatives, music programs, emergency services, veterans, health programs, and libraries. It provides food, shelter, and winter heating to families in need. It helps children access resources for becoming happy, healthy, successful adults. 
"The impact of this fund is tremendous," says CFA President Mike Kane. "It reflects the deep community spirit that binds Somerset County, and illustrates how the CFA is embedded in our local communities as an inextricable asset."
In keeping with that spirit, #SomersetCountyGives introduced four specific areas for fundraising, highlighting what's most important to those who live and work here: 
Children, Youth, and Families Fund: Supports the physical, mental, and social wellbeing of Somerset County's children.

 

Cultural and Heritage Fund: Supports arts, cultural, and historical organizations preserving the heritage of Somerset County.
Veterans' Initiatives Fund: To enhance the wellbeing and remembrance of Somerset County veterans.

 

Volunteer Firefighters Fund: To support the safety, equipment, and training needs of Somerset County's volunteer firefighters.

 
Donors have a choice – they can contribute to a general fund, supporting all local nonprofits, or direct their donations to one of the sub-funds. Pledges and contributions can be made for any amount, in cash, stocks, property, or bequests. Pledges can also be made over time, to fit with a schedule and budget that is comfortable for donors. 
Together, we're leading Somerset County into tomorrow. The Somerset County Community Fund: Our Community. Our Fund. Our Future.