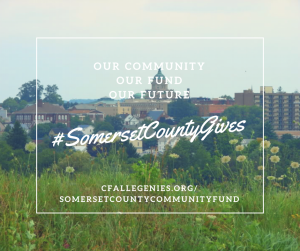 Here in the Alleghenies, we have the fortune of partnering with many local businesses that believe in investing in their hometowns.
The #SomersetCountyGives campaign has gained terrific momentum since it launched just a few months ago. Much of that is due to local businesses, which share our vision of a community endowment that can support local nonprofits forever. We are grateful for the companies that have stepped up so far to help fund this undertaking, and are encouraged by what's on the horizon. The Somerset County Community Fund is truly a community-wide effort, and our engagement, so far, shows us we're on the right track.
Pamela Tokar-Ickes, Somerset County Endowments Director for the Community Foundation for the Alleghenies, penned this piece for the Daily American, detailing the benefits of corporate philanthropy — to the community, and to businesses themselves. While this was written in support of activity specific to Somerset County, it applies to communities throughout Bedford, Cambria, Indiana, and Somerset counties. It was published in the paper May 18th.
Corporate Philanthropy Vital to Local Progress
Corporate philanthropy is the civic backbone of our community. Local businesses and corporations support the organizations and causes that maintain our quality of life and address community challenges. But did you know that corporate philanthropy is also good business?
Studies show that a company's commitment to its community is key in the minds of its customers — and its employees. The Cone Corporate Social Responsibility study on Cause Branding found that seven out of ten Americans say a company's commitment to causes is important when they decide which products and services to recommend to others. Furthermore, it explains that employees whose companies support social issues are 40% more likely to say they are proud of their company's values and are more likely to be loyal to their employers than companies that do not have such programs. The Council on Foundations' National Philanthropy Benchmark Study also found that 80% of shareholders who favorably rated a company's philanthropy were likely to continue to invest.
The generosity of Somerset County's corporate community is widely demonstrated at nearly every special event and our local nonprofits' fundraising endeavors. Some businesses and corporations are strong and reliable civic partners, consistently giving back through donations, in-kind services, and by encouraging their employees to get personally involved in community organizations where they live. Philanthropy is within the fabric of their corporate mission and has become a touchstone of who they are.
There couldn't be a better time for the corporate community to reinvest. Changes in our federal tax code may pose challenges for local nonprofits that rely on individual donations to meet their mission. A 2017 study on the impact of the new tax changes by The Pittsburgh Foundation and United Way of Southwestern Pennsylvania projected a nearly 5 percent decline, a projected reduction of $60 million dollars, in individual giving in western Pennsylvania alone. Our nonprofits will be challenged to fill the gap.
Most businesses — and individuals — give because they want to support the causes they care about. The Community Foundation for the Alleghenies is uniquely connected to the communities we serve because we call them our home. Our strong partnership with local nonprofit organizations can directly connect you, your corporation or business, and your employees, with causes that are important to you through corporate donor advised funds, support of our five-year #SomersetCountyGives Endowment Campaign, or by directly working with your employees and their families to identify and develop their own personal philanthropic goals.
The heart of a community is evident through the level of engagement of its citizens. Corporate philanthropy has always been a vital sign.