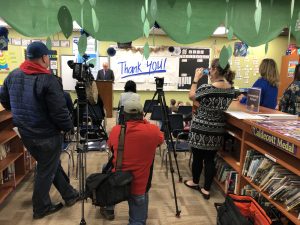 This fall, the Community Foundation for the Alleghenies is supporting 84 local nonprofit initiatives with a total of $225,642 in grant funding.
More than a fifth of the grants went to programs administered through local schools. From weekend food programs for underserved families to science and engineering initiatives preparing young people for success, to arts and culture programs molding young hearts and minds into well-rounded global citizens, funding created by CFA donors is laying the foundation for a healthy, engaged, educated generation.
The Conemaugh Valley School District shows us how these programs provide for today's essential lessons. With a $6,500 grant, first graders in the Conemaugh Valley school district will have access to software and equipment that can be used across multiple subject areas to enhance learning in the areas of coding and engineering. The funding will provide iPads, robots, and accessories, supporting a diverse community of learners. This range of teaching tools – from basic building blocks to higher level computer programs and robots – will allow every single first grader in the district, and every first grader for the foreseeable future, to have an education in technology on par with current standards.
First grade teacher Michelle Miller spearheads the coding initiative at Conemaugh Valley. "Today's teachers are tasked with preparing students for jobs and careers that have yet to be imagined," says Miller. "This grant will allow us to expose our young students to the amazing STEM technology that is available for their learning. This grant enables us to teach our students early in their learning journey, ultimately leading to more in-depth instruction at higher levels, preparing them for the jobs and careers of the future."
In a district with a population of high need common to the area, many of these young people wouldn't otherwise have the opportunity to learn the skills they need to keep up with modern standards in education.
"This shows the direct impact CFA donors have on our community," says CFA President Mike Kane. "By partnering with their local Community Foundation, the funding our donors establish empowers the projects shaping our future."
Here's a look at highlights of grants awarded in each county:
In Bedford County, $21,610 is supporting ten different programs.
$1,000 is going to a nonprofit that will provide the Bedford Area School District with winter coats for local students.
The Hope 4 Hyndman Charter School will renovate its theater with a $2,500 grant, providing a venue for the school's k-12 students, plus local organizations throughout the community which use the stage for their own productions.
Another $2,800 will go to Hope 4 Hyndman to buy and repair instruments for a school-wide music program.
Nineteen Cambria County organizations will receive $55,020, combined.
The Cambria County Backpack Project will continue providing weekend meals to under-resourced students in six school districts, with support from a $3,180 grant.
The Patton Garden Club will use its $1,000 grant to replace a greenhouse that was wiped out in a recent winter storm. The greenhouse is an integral part of Patton's 6th grade science program.
The Greater Johnstown School District will purchase and train a service dog, enhancing Johnstown Elementary's robust positive behavior support program. This dog will work with students on the autism spectrum, relieving anxiety, and teaching them responsibility and compassion.
In Indiana County, 9 nonprofits will receive $26,425.
$8,635 of that is going to the Armaugh and East Wheatfield Township, Bolivar, and Young Men's Volunteer Fire Companies for new or upgraded equipment. Armaugh and East Wheatfield will purchase a side-by-side ATV; Bolivar will upgrade its HVAC system; and the Young Men's company will replace its adjustable flow nozzles.
$65,247 is being distributed to 26 Somerset County initiatives.
The Learning Lamp will help sustain Cougar Connections in the North Star School District with $1,400 in CFA funding. This program strengthens family bonds, reducing violence and addiction among teens and improving their performance in school.
$5,000 will support weekend meal programs for low income children through Berlin Brothersvalley schools and through First Christian Church in Somerset.
$2,000 will provide high school juniors and seniors access with college-level courses at the Allegany College of Maryland's Somerset County Campus.
Twenty projects benefiting residents in multiple counties will receive $57,340.
$6,700 will help the Salvation Army Dental Center in Johnstown provide free dental care to local under-and-uninsured residents.
The Kinport Assembly of God Church will provide clothing and school supplies to any child in need with the help of a $6,000 grant.
$3,000 will help New Day offer after-school care for under-resourced children in Johnstown and Windber.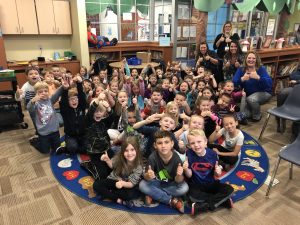 CFA is collaborating with social service agencies, school districts, arts organizations, emergency services, historical societies, and other organizations to address our communities' needs.
Click here for a list of every project funded, by county.