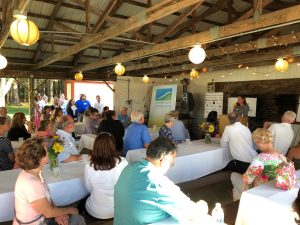 Community Foundation for the Alleghenies' Youth Philanthropy Interns awarded $50,000 to three local organizations with projects aimed at strengthening arts for young people, and regional unity.
The eight interns are 2018 graduates of local high schools. They are led by two returning interns from last year who serve as team leaders. They were organized into two groups, each with $25,000 to award.
"Arts for the Alleghenies" awarded its entire grant to Cresson Lake Playhouse.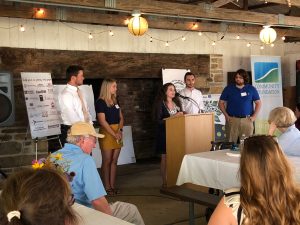 The playhouse plans to construct an outdoor performance facility to house youth programs, as well as utilize as an arts hub.
"The sustainability and impact potential of the venue proved promising," says senior intern Ethan Wingard. "After reviewing 13 applications, we saw amazing potential in Cresson Lake Playhouse's proposal that can leave a lasting impact on our region for years to come."
The Art for the Alleghenies Team: Senior Intern Ethan Wingard, Robert Morris University; Shay Roth, Richland High School; Rory Bretz, Somerset High School; Jonathan Guaetta, Windber Area High School; and Alex Kiepert, Central Cambria High School.
The "Forging Unity" team awarded its grant to two programs: the Mary S Biesecker Public Library's Modern Musketeering ($19,500) and Johnstown Neighborhood Boosters' Block Parties Exploding ($5,500).
Modern Musketeering will foster unity by encouraging the community to take part in live concerts by local musicians and enjoy outdoor movie nights. Along with community activities, the application proposed a welcoming committee to all new members of Somerset Borough to help create a friendly atmosphere for all newcomers.
Block Parties Exploding will also foster unity through the expansion of their neighborhood block parties, which create interaction between neighbors by inviting them to step outside for a day of family fun, food, and entertainment. Specifically, the interns will be funding a way for the parties to be more mobile and easily set up and clean up.
The Forging Unity Team: Senior Intern Adeline Mishler, Penn State University; Morgan Bailey, Richland High School; Ethan Dabbs, Richland High School; Cooper Tretter, North Star High School; and Maggie Blaisdell, Bishop Carroll Catholic High School.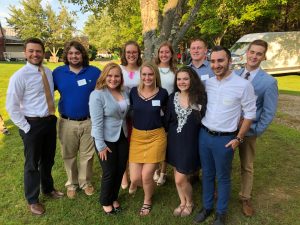 Interns spent eight weeks at CFA this summer exploring civic engagement and community building by meeting with nonprofit organizers, local business leaders, elected officials, and CFA donors. Interns also performed community service, worked on several communications projects, and critically assessed community needs.
The program culminates with the awarding of $50,000. Interns chose areas of interest to support with this funding, and created their own Requests for Proposals. They then assessed grant applications, many with site visits, and selected the grant recipients.
This is an extraordinary opportunity for these young people to measurably impact their community. It is also a tremendous opportunity for local nonprofits to receive substantial funding for their endeavors.
"Hosting these interns has become an annual highlight," adds CFA Program and Communications Officer Angie Berzonski, who oversees the internship. "This is an exciting program that engages our next generation in today's thought leadership. They bring fresh perspectives and their own valuable experience to our work as nonprofit collaborators. They become invested in the future of their own community, which we hope brings them back after college to continue their good work."
The Youth Philanthropy Internship is generously funded by The Heinz Endowments.