Community Foundation Seeks Youth Philanthropy Interns for Summer 2019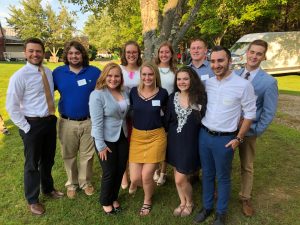 The Community Foundation for the Alleghenies encourages current high school seniors from Bedford, Cambria, Somerset, and Indiana counties (with a passion for community involvement, public relations, and current events) to apply for the 2019 Youth Philanthropy Internship.
Throughout this paid internship, participants will use their skill sets to identify and support solutions for areas of concern within our community, while bringing a youthful perspective to the Foundation's grantmaking.
The 2019 YPI is scheduled to run from June 24 to August 9 in downtown Johnstown. Former interns are quick to point out that this is "far from a typical internship." Over the course of the summer, interns will work in teams to create and implement a youth philanthropy project, which will culminate in awarding grants to local agencies that serve the region. In order to develop the project, the interns will research a variety of issues facing local neighborhoods, identify service priorities, build funding guidelines, solicit request for proposals, and ultimately award funding. Interns will not only learn the basics of grantmaking but also create media advocacy pieces, volunteer for community organizations, and earn money — all while gaining greater knowledge about our  region.
"We are very excited to offer our seventh annual Youth Philanthropy Internship," said Angie Berzonski, Program/Communications Officer for the Foundation. "So far, this program has enabled 45 young adults to award $275,000 to local projects that they care about. We can't wait to learn what this year's interns are concerned about, and help them learn how they can make a difference." 
The internship is funded by a grant from The Heinz Endowments, and mirrors the Endowments' highly successful Summer Youth Philanthropy Internship. The Heinz Endowments supports multiple efforts to make western Pennsylvania a great place to live and work, a center for learning and educational excellence, and a region that embraces diversity and inclusion.
The Community Foundation recognizes the growing need to closely understand how area issues affect local teens and, therefore, offers this opportunity for the Class of 2019 to work with its staff as paid summer interns. Ideal candidates should be able to work in teams, demonstrate strong communication skills, and be able to interview, collect, and report information.
Applications and job description are available online here and are due March 8, 2019. Applications will be reviewed by a committee and a select number of candidates will be asked to visit the Foundation for an interview. Eight candidates will ultimately be selected for the internship.
The Community Foundation for the Alleghenies is a nonprofit public foundation. Through charitable giving of its donors, it builds professionally managed assets to support Bedford, Cambria, Somerset, and Indiana counties. The Foundation is overseen by an active volunteer board and committees, and complies with national standards established by the Council on Foundations, the philanthropic sector's primary affiliate organization. Learn more about the Community Foundation for the Alleghenies by visiting cfalleghenies.org.
###