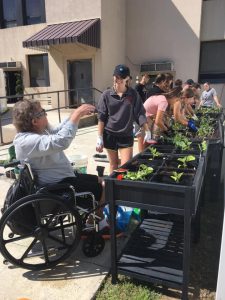 This week, Cambria Care Center and St. Francis University introduced a program that has been in the works for months, and it's bringing university students and seniors together. St. Francis received a grant for the therapeutic gardening project from the 2019 Youth Philanthropy Interns' Whole Person/Whole Community team this summer.
In the program, students travel to the Cambria Care Center in Ebensburg where they help residents with planting and watering, and residents can socialize and share their knowledge on flowers and vegetables.
Administrators at the Cambria Care Center said residents are delighted to continue engaging in their passion for gardening and grow fruits and vegetables for a "farm to table" program, where they will be able to cook their home-grown items with employee assistance. St. Francis students will be volunteering their time throughout the entire semester. The beds will be moved indoors to continue the program during the off-season.
Read more about the programs that received funding through this year's YPI class.
The Youth Philanthropy Internship is made possible by generous funding from The Heinz Endowments. The Heinz Endowments is devoted to the mission of helping our region prosper as a vibrant center of creativity, learning, and social, economic, and environmental sustainability. Core to the Endowments' work is the vision of a just community where all are included and where everyone who calls southwestern Pennsylvania home has a real and meaningful opportunity to thrive.