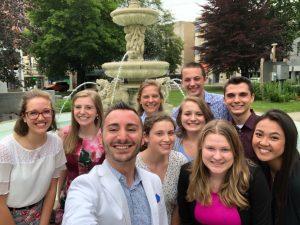 Community Foundation for the Alleghenies (CFA) is pleased to welcome the 2019 class of interns for the seventh year of the Youth Philanthropy Internship (YPI) program.
During the seven-week program, interns will create radio documentaries highlighting local interests, produce a marketing project to recruit the next group of Youth Philanthropy Interns, and award $50,000 in funds that support local nonprofits or government entities aiming to tackle community issues the interns hope to combat.
CFA Program Officer Angie Berzonski says, "Year after year we are impressed by the pool of energetic and determined applicants we receive for the Youth Philanthropy Internship. These are recent high school grads who want to learn more about our community and work to make it a better place. This year is no exception. After a difficult selection process, we are excited to welcome these eight new interns and two returning senior interns to join us at CFA, and we look forward to finding out what areas of impact they will prioritize (through grant funding and communications projects) during their time with us."
This program is possible thanks to generous funding from The Heinz Endowments which support efforts to make southwestern Pennsylvania a premier place to live and work, as well as a center for learning and educational excellence, and a region that embraces diversity and inclusion. The Heinz Endowments is devoted to the mission of helping our region prosper as a vibrant center of creativity, learning, and social, economic, and environmental sustainability. Core to our work is the vision of a just community where all are included and where everyone who calls southwestern Pennsylvania home has a real and meaningful opportunity to thrive.
These eight passionate young adults, all 2019 high school graduates, will be led by senior interns Maggie Blaisdell and Jonathan Guaetta, participants in last year's program.
Meet this year's YPI class:
Reagan Hajjar is a 2019 graduate from Central Cambria. At Central Cambria she ran cross country, was the Vice President of Student Council, a member of the National Honor Society, and a four-time national qualifier for Forensics. Last summer, Reagan published her own research on Irregular Graph Theory in the PGSS journal. In her community, she started a youth choir at her church to engage the younger people in her religious community. Reagan plans to attend Worcester Polytechnic Institute on a Presidential Scholarship in the fall to study Industrial Engineering with a minor in Data Science. Reagan is excited to expand her knowledge of the surrounding community through this internship.
Sophie Hochfeld graduated from Westmont Hilltop High School and will be attending Temple University in the fall to major in Economics. While at Westmont she participated in chorus, tennis team, theatre club, musicals, National Honor Society, and was the Community Service Chairwoman of her Student Council. She has also been a member of the Girl Scouts for 13 years. She really enjoys community service and received the Girl Scout Gold Award for her work in community service. She decided to work as a Youth Philanthropy Intern for the Community Foundation for the Alleghenies in order to learn more about Johnstown and to better serve her community.
Rebecca Johnson is a recent graduate of Rockwood Area High School. Rebecca will be attending the University of Pittsburgh this fall to major in Neuroscience/Pre-Med. In high school, she served as President of FBLA, where she qualified for the National Leadership Conference three years in a row, participated in Forensics Speech and Debate, played soccer and basketball, and served as Student Council President. Rebecca decided to participate in this internship because she wants to get involved with different community service organizations as well as learn valuable business skills.
Cameron Pressel, a recent graduate of Northern Bedford High School, is excited to be a part of the the 2019 Youth Philanthropy Internship program. In high school, Cameron was an active member in volleyball, track, and basketball. She was also a part of Future Business Leaders of America where she attended the state competition for two years. She was also a member of her school's band, chorus, National Honor Society, PRIDE Team, and was Treasurer of her graduating class. Cameron decided to apply for YPI because she wanted to give back to the community through service. In the fall, she will be attending Shippensburg University to study Biology.
Hannah Slope is a 2019 Rockwood High School graduate. Hannah participated in National Honor Society, Spanish Honor Society, SADD, journalism, Student Council, where she served as Vice President, as well as a variety of other school clubs. She also played an instrumental role on Rockwood's varsity soccer team. She will be attending the Honors College at Slippery Rock University in the fall of 2019, where she will be majoring in public relations and integrated marketing. In her free time, Hannah enjoys playing soccer, hiking, biking, kayaking, and photography. Hannah says she is participating in YPI because she believes it will provide her with "experience in the public relations field, as well as an opportunity to perform community service in the area."
Quinn Spangler is a recent graduate from Forest Hills High School. He was a tri-sport athlete in school, participating in golf, basketball, and baseball—and he simultaneously held memberships in National Honor Society, Student Council and was president of his Robotics Club. His hobbies include biking, kayaking, playing basketball, and mowing grass as his second job. Spangler is furthering his academic career at Syracuse University to major in sports analytics. He says his motivation for joining the internship team is because "it's a great opportunity for individuals our age to have an impact on Greater Johnstown and its surrounding communities."
Jenna Stofko is a 2019 graduate from Bishop McCort high school where she was a member of rosary club, l'education en vogue club, French club, member of Mu Alpha Theta, a hurdler on the Track and Field team, and a soccer player. Jenna is attending Saint Francis University and majoring in Nursing because she enjoys helping people. She was awarded the Holy Spirit Award for assisting and being active in her church. Jenna wanted to participate in the Youth Philanthropy internship as an opportunity to meet people in the community.
Brendan Veney, a 2019 graduate of Greater Johnstown High School, will be attending Duquesne University in the fall majoring in marketing and corporate communications. Veney spent his time at Greater Johnstown as president of the community service oriented Interact Club as well as vice president of National Honor Society. Greater Johnstown Rotary also named him a 2019 Paul Harris fellow. He is extremely excited to learn more about Johnstown and the surrounding community and make a difference through various community service organizations.