[cmsms_row][cmsms_column data_width="1/1″][cmsms_text]
Applications open February 1st for the 2019 Youth Philanthropy Internship at Community Foundation for the Alleghenies, which is entering its seventh year. Here's a look at last year's program, submitted by 2018 intern Alex Kiepert:
The Community Foundation for the Alleghenies' Youth Philanthropy Internship is gratefully funded by The Heinz Endowments. Graduating seniors from high schools in Cambria, Somerset, Bedford, and Indiana counties are eligible to apply. This internship offers unique opportunities for community engagement and is a great fit for service-focused students who strive to make a difference. Throughout the paid internship, participants will go on various site visits to learn about the community, award a $25,000 grant, create a radio documentary, and market the program for the next class of interns. The Community Foundation for the Alleghenies wants your youth perspective on our region!
Each year, the schedule changes, but here are some of the activities from last year. In the first week, the interns went to Outdoor Odyssey and other places to do team building exercises. Activities ranged from rock climbing to mind games!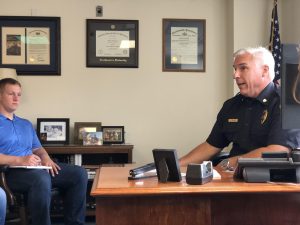 The second and third weeks of the internship were filled with site visits all across our region, visiting and meeting new people and places. An example of one of the site visits was meeting with City of Johnstown Police Chief Bob Johnson. Site visits during the internship are based off of common issues identified in the interns' applications, as well as other community needs. There are roughly two weeks of going around the region and finding your passion!
[/cmsms_text][/cmsms_column][/cmsms_row][cmsms_row][cmsms_column data_width="1/1″][cmsms_gallery layout="gallery" image_size_gallery="full" gallery_columns="4″ gallery_links="lightbox" animation_delay="0″]14508|https://cfalleghenies.org/wp-content/uploads/2019/01/IMG_2211-150×150.jpg,14509|https://cfalleghenies.org/wp-content/uploads/2019/01/IMG_2242-150×150.jpg,14499|https://cfalleghenies.org/wp-content/uploads/2019/01/YPI-2018-tree-push-150×150.jpg,14498|https://cfalleghenies.org/wp-content/uploads/2019/01/YPI-2018-mop-150×150.jpg[/cmsms_gallery][/cmsms_column][/cmsms_row][cmsms_row][cmsms_column data_width="1/1″][cmsms_text]
After identifying areas of focus for their philanthropy, the interns worked on their RFPs (Requests for Proposals) and held a news conference at Flood City Café to announce grant opportunities. The next week was dedicated to community service at different locations. At Austin's Treehouse the interns cleared trees, picked up glass, and painted/designed a "Coming Soon" poster. At the Johnstown Train Station, they helped the Johnstown Youth Corps clean by stripping floors with a buffer and reorganizing the back rooms. The interns also volunteered at the Humane Society of Cambria County, The Learning Lamp, and Arbutus Manor.
Near the end of the internship, they focused on creating radio documentaries. During this week, they planned and conducted interviews. Once the audio recordings were done, the Saturday Light Brigade team taught them how to put the radio documentary together using audio editing software.
The final week of the internship was all about reviewing proposals and preparing for Founders' Day. Founders' Day is when the CFA staff reports to donors on how they have grown over the past year and how their funding is being put to work. For the interns, Founders' Day was also the day that they awarded grants. In preparation for this, they read, evaluated, and discussed the proposals, and made site visits. In 2018, Founders' Day was at the Somerset Historical Center.
Pictures and highlights of the interns' radio documentaries can be found here.
Alex added these personal notes to his reflection: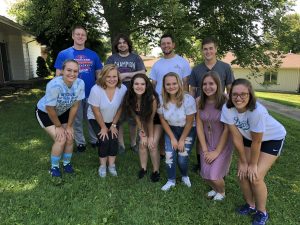 Hello everyone, I am Alex Kiepert. I am currently attending Saint Francis University to double major in Accounting and Finance, and to also play golf. Thank you for being so interested in the Youth Philanthropy Internship program that you wanted to hear my personal story! This was such a great way to spend my summer that I recommend it to anyone that loves making a difference within his or her community. To give you a little bit more of a personal glimpse into the internship, I will give you a quick synopsis:
The first week was the most fun because it was solely team building activities. Granted it was fun, but everyone has their difficulties, those either being social, physical, or emotional. My issue at the start of this internship was simply being myself, in an uncommon area with people I do not know. The next couple weeks were filled with meeting other people I would not have typically met at the age of 17 (like Police Chief Bob Johnson or County Commissioner Tom Chernisky). This helped me break out of my own little comfortable world. I could not have been able to do it, however, without my fellow interns. We all developed really great relationships with the others — so great that we went to many "YPI social events" after work. This internship really helped me socially while keeping things challenging, light-hearted, interesting, and fun — not to mention all the opportunities and doors that were opened up for me. You meet so many community leaders that are so kind and helpful. When writing the Request for Proposals, we all met with Wessel and Company, a local auditing firm that gave us an introduction to grantwriting finances. Personally, as an accounting major, this was one of my favorite visits, along with the community service week in its entirety. In closing, what could be better for your resume than an internship before college!