Applications are open for the CFA's 2018 Youth Philanthropy Internship
The Community Foundation for the Alleghenies' Youth Philanthropy Internship is a paid internship opportunity for this year's graduating seniors from Bedford, Cambria, Somerset, and Indiana counties. The internship runs eight weeks from mid-June to mid-August, typically Monday through Friday from 9:30 a.m – 4:00 p.m.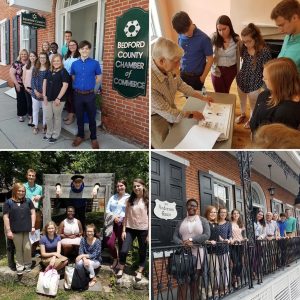 As a youth intern you will have an opportunity to:
Meet new people from other schools
Explore our region
Learn something new everyday
Earn money
Make an impact in your community
Build your professional network
Have an internship before college
And more!
The Summer 2018 internship will be the sixth year for the program in Johnstown. Supported by grants from The Heinz Endowments, it is a replication of the Endowments' successful Summer Youth Philanthropy Internship. The Endowments supports efforts to make southwestern Pennsylvania a premier place to live and work, a center for learning and educational excellence, and a region that embraces diversity and inclusion.
The purpose of the internship is to involve youth in the community and teach them about philanthropy, marketing techniques, and how to help meet community needs. The interns will be broken up into two teams, each led by a senior intern who participated in the program last year. After exploring community needs, each team will develop a grantmaking program, create radio documentaries, and work with local nonprofits on a wide variety of projects.
Click here for a complete job description. Click here to access the online application. The application deadline is Friday, March 9, 2018.
If you have any questions about the program do not hesitate to contact Angie Berzonski.