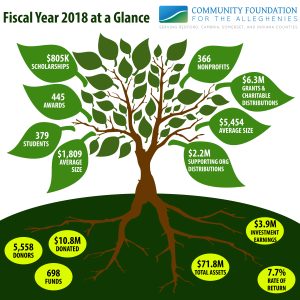 The number are in: together, we're growing resources for local nonprofits, and growing the impact of local initiatives to make our region stronger.
CFA hit a major milestone this past fiscal year, surpassing $71 million in assets. We now manage approximately 700 funds, each of which was created by local individuals, families, businesses, and nonprofits, to support and serve our hometown.
This past year alone, more than 5,500 donors contributed nearly $11 million to CFA funds. In turn, $6.3 million went out to 366 local nonprofits, to support and sustain everything from arts programs to essential human services, job training, economic development, neighborhood block parties, and much, much more.
We're proud to report CFA scholarships soared this year, as well. 379 students received funding for their post-secondary pursuits, for a total $805,000 in awards. That's a 46% increase over last year. Many of these scholarship funds were created in honor or in memory of someone dear, and we're proud to help maintain those legacies.
These successes belong to our donors. We are humbled by the generosity of each and every person who comes to us with an idea for helping others, and enlists our services to facilitate their compassion. That's the short version of what we do: make it easy for people to uplift each other.
Our Annual Report will be out in a few short weeks, highlighting the collaborations driving charitable work throughout our region. In partnership with our donors and the nonprofit work they fund, we are leading the way to a vibrant, prosperous future, built on resources reflecting our region's rich heritage.