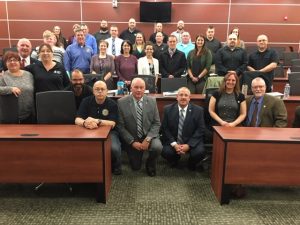 Cambria County Suicide Prevention Task Force members are the first in the region to help fill a funding gap for the Laurel Highlands Region Police Crisis Intervention Team (CIT), a program that has trained hundreds of police to successfully respond to people in crisis, saving lives by de-escalating situations and connecting people with appropriate mental health services.
Through their fund at Community Foundation for the Alleghenies, task force members are awarding a $500 grant to the CIT. Task force members work to support those affected by suicide, provide education through community collaboration to prevent suicide, provide crisis intervention, and reduce stigmas associated with suicide.
The training program aligns with the fund's mission by providing another collaborative tool to prevent suicide, according to task force chairs Byron and Donna Smith.
"CIT officers are often called upon to respond to suicidal persons," Donna Smith says. "They receive extensive training in the appropriate and most effective ways to approach and communicate with a suicidal individual. Their de-escalation and communication skills help to create a positive outcome in most cases, thereby giving the suicidal person an opportunity to receive appropriate mental health evaluations and treatments."
Help from the task force fund comes at a turning point in the program's financial sustainability, according to Det. Kevin Gaudlip, CIT's law enforcement coordinator. The program launched in 2006, but initial funding has dried up. Now, to continue to train police and meet demand to train other first responders, such as 911 dispatchers—who could help save lives over the phone—the program must be funded entirely through donations.
Gaudlip sent out an appeal to area organizations, and the Cambria County Suicide Prevention Task Force was the first to step up, Gaudlip says.
"We have a core group of people trying to keep CIT moving forward," he says. "We've used up the initial grant money that we used to get this started in Pennsylvania. It is so critical to have that specialization in de-escalation techniques. There's no doubt about it: it saves lives."
The most recent CIT class graduated in April and included 11 emergency dispatchers, who may be the only connection to help a suicidal person has left. Gaudlip said he hopes to be able to train as many dispatchers as possible, in addition to regional officers who have yet to complete the program.
The CIT also has a fund at Community Foundation for the Alleghenies. For information on either the Laurel Highlands Region Police Crisis Intervention Team Fund or the Cambria County Suicide Prevention Task Force Fund—or to donate—visit www.cfalleghenies.org/funds.