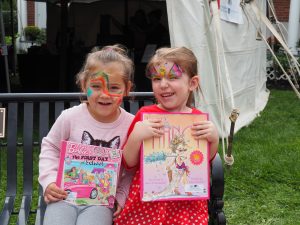 Readers and writers from across the region will fill the streets of Uptown Somerset on Sept. 21 for the second annual Festival of Books in the Alleghenies. Visitors can mingle with more than 45 authors representing a wide range of interests and genres: adventure, children's, crime, fantasy, historical, mainstream, memoir, middle grade, multi-cultural, mystery, non-fiction, paranormal, romance, sci-fi, suspense, women's, YA and more.
Activities are planned for all ages throughout the day, and the festival's main stage on the steps of the Somerset County Courthouse will feature all-day programing, including live music, poetry, storytelling, and awards for a grades 4-12 writing contest sponsored by "The Daily American." Vendors will be set up along Center Avenue, and Uptown's Trinity Park will be a hotspot for children's activities, with storytelling, music, readings, face painting, balloons, and bubbles.
This year the event also includes a Friday evening keynote author reception at the Somerset Historical Center with Tom McMillan, author of "Flight 93: The Story, the Aftermath and The Legacy of American Courage on 9/11." See www.alleghenyregionalfestivalofbooks.org for author profiles and more information about schedules and activities.
Last year, the event kicked off in Bedford Borough to great reviews, Hilary Hauck, the chair of the event's steering committee, said.
"We're hearing a lot of excitement about this year's event too," she said. "I think it's because it's not only about celebrating books and local and regional authors, but also really about involving the community.
It's a great day for the community and, in the end, it puts money back into literacy programs in the area."
The festival rotates among Cambria, Bedford, and Somerset counties. Proceeds benefit local literacy causes and are managed through the Festival of Books in the Alleghenies Fund at Community Foundation for the Alleghenies. For more information about the fund or to make a donation, click here.
Money raised through last year's event went to providing little ones in Bedford County with children's book bundles—books wrapped in receiving blanks that were distributed to new parents through the Special Supplemental Nutrition Program for Women, Infants, and Children (WIC).