In Bedford County, the Chamber of Commerce is installing LED lights, illuminating a new Business and Education Center. The end result will be a reduction in carbon emissions by over 13,000 pounds a year, and annual savings of more than $1,000 on utilities. This $10,700 project is part of the Chamber's 1.4 million-dollar renovation of the Russell House, an important Bedford landmark.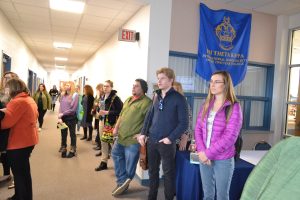 Down the road at the Allegheny College of Maryland's Everett Campus, the Bedford County Regional Education Foundation put $25,000 toward an overhaul in infrastructure, converting indoor and outdoor lighting to LED, and replacing door seals, weather stripping, seven HVAC units, and an energy recovery unit. The project will reduce campus-wide electricity use by more than 52,000 kWh a year, and save ACM over $6,000 a year in utilities and operational costs.
In Johnstown's historic Cambria City, Bottle Works will use another $25,000 toward a new green roof over its Art Works building. In addition to making the facility more energy efficient, the new roof has space for gardens and outdoor classrooms. Half of the rooftop's 3,400 square feet will be covered in plants, improving storm water management, biodiversity, and urban agriculture. This project, with a total cost of $570,000, is expected to reduce the building's use of electricity by 12 percent, and lower its electric bill by more than $2,000 a year.
All of this grant funding comes from the Metropolitan Edison/Penelec Sustainable Energy Fund, established in 2000  as a result of electric utility deregulation by Pennsylvania Electric Utilities. The fund is designed to promote the development of sustainable and renewable energy programs and clean-air technologies. The Penelec portion of the fund is managed by the Community Foundation for the Alleghenies. The Metropolitan Edison portion of the fund is managed by Berks County Community Foundation.
In 2017 alone, the Met Ed/Penelec SEF provided $352,455 to businesses and organizations across the state. $261,330 of that was distributed by the CFA throughout Penelec's 22-county region. This funding went toward projects that reduce energy costs for recipients, and support a statewide evolution toward energy efficiency. Funding also went toward energy audits for nonprofits and municipalities, to discover the best ways for organizations to upgrade their energy use.
Here's a complete list of the CFA's SEF grants in 2017:
Interphase Material, $25,000 – heat transfer efficiency project
Huntingdon Farm, $6,380 – Solar HVAC mini-split installation
Bedford County Chamber Foundation, $10,700 – LED lighting for Business & Education Center
Pennsylvania Biomass Energy Association, $2,500 – 2017 membership
JARI Growth Fund, $25,000 — Re-Energize Johnstown Initiative
Green Building Alliance, $20,000 – GBA Northwest PA Energy Efficiency Initiative
Greater Johnstown Water Authority, $25,000 – pumping efficiency through Variable Frequency Drives
Bottle Works Ethnic Arts Center, $25,000 – green roof project
Bedford County Regional Education Foundation, $25,000 – energy upgrades at the Allegany College of Maryland's Everett campus
North American Passive House, $15,000 – conference sponsorship
Francis University, $5,500 – sustainable energy project surveying
Energy audits for: Benedictine Sisters of Erie; Community Arts Center of Cambria County; Children's Aid Home; FWA Gym, Somerset Area Ambulance Association; Cambria County Historical Society; Pleasant Ridge Manor in Erie
"We are pleased to announce the 2017 distributions from the Metropolitan Edison/Penelec Sustainable Energy Fund, and look forward to working on even more innovative projects in 2018. It's exciting to realize that, since inception, this fund's advisory committee has played a transformational role in energy efficiency across the Commonwealth, approving nearly 200 grants totaling $3.8 million; 44 loans totaling $24 million; and 3 equity investments totaling $1,600,000," says Mike Kane, president, Community Foundation for the Alleghenies.
This partnership is building stronger communities. "We are grateful for efforts of the Community Foundation of the Alleghenies to connect qualified organizations with meaningful funding," says Laura Argenbright, Bottle Works' Executive Director. "The Bottle Works' Green Roof project met all of the requirements of the Sustainable Energy Fund, and the CFA made it possible to us to apply for this funding." In fact, this is the second $25,000 SEF grant this Art Works project has received, for a total of $50,000. The earlier grant was awarded in 2013.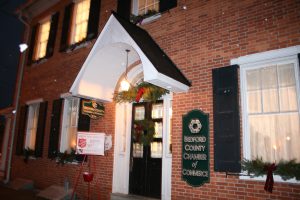 The benefits of improved efficiencies are already apparent in Bedford County's Chamber of Commerce, where Executive Director Kellie Goodman says employees and users of the Business and Education Center are enjoying a better work environment. "The Russell House project represents the very best of Bedford County. Our goal is to preserve and celebrate a very special historic landmark while creating an innovative, collaborative space to help entrepreneurs achieve their dreams of starting new and successful businesses. The support from the Community Foundation and the Penelec Sustainable Energy Fund is helping to make our vision a reality to the benefit of our business community and our region."
Leah Pepple, Director of PA Development and Community Relations for the Allegany College of Maryland, says current and future students at ACM's Bedford County Campus are the true beneficiaries of the substantial investment in the school's energy efficiency. "The SEF grant is making the future brighter for students and giving them continued access to local postsecondary education. Most importantly, the project gives Allegany College of Maryland and the Bedford County Regional Education Foundation the opportunity to transform lives and strengthen the Bedford County region."
Together, we're helping Pennsylvania businesses be better stewards of the environment and enjoy substantial savings on the cost of doing business. This leads to friendlier work spaces, improved living conditions, and a happier, more sustainable, earth.
For more information about the Metropolitan Edison/Penelec Sustainable Energy Fund, visit the fund's website.