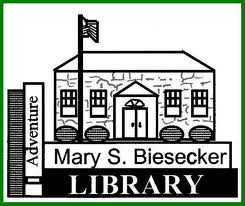 The Mary Biesecker Public Library in Somerset is putting on a new face to go with updated programming.
This spring, the library renovated its stairwell, repairing and replacing stair treads, and replastering its walls and ceiling. The 75-year old building had started showing its age, with structural decay that was unsightly and posed safety concerns. The work was completed with help from a $3,000 grant from the Community Foundation for the Alleghenies' 2017 spring distribution.
The upgrade created a blank canvas for a public art project, echoing the library's three historic murals that were created in the early 1940's under the Works Progress Administration (WPA). This will welcome patrons into the building's basement, which houses the children's library and special programming.
Administrators are already in discussions with local artists for the proposed mural and look forward to sharing more details about the project soon.
"This is something our patrons and the public can appreciate when they come into the library, in addition to the three big murals we already have," says library director Lee Ann Shrock. "We want the library to be a pleasant place to visit, something they'll remember and come back."
In addition to renovations, the library is going green, with help from a $25,000 Penelec Sustainable Energy grant. The funding provides for energy-efficient LED lighting throughout the building, along with new insulation. The grant requires the library implement some sort of renewable energy source. Right now, plans are to install a cantilevered solar parking structure. The "carport" will generate energy while offering much-needed shade in the hot summer months and protection from the winter snow.
The Penelec grant also included a seminar on energy-efficiency, which educated Somerset-area residents about energy use, how to measure it, and changes they could make to save energy — and money.
The structural upgrades complement an ongoing evolution in what it has to offer patrons, making the library relevant to the community in the midst of today's technological advancements. This includes classes on using computers and cell phones, Science Technology Engineering and Math programs for children, book clubs and writing groups, and a robust collection of electronic books, which most people don't realize they can check out just like traditional books.
"My vision is about creating a more active role in the community," says technology and facility coordinator Morgan Simmons. "Outreach… We need to go outside the walls and go to events and make people aware of what the library is doing – be more prominent outside of walls – defining what it means to be a community institution, changing that definition over time, and  creating space and programing to reflect those changes."
As we all turn to our hand-held devices for everything from information on-demand to virtual socializing, the library's role as a community gathering place is more important than ever.
"People come to engage with each other, and to explore the resources." explains Morgan. "Not just e-books — books will always be a large part of what's here — but doing a lot of educational and other programming that keeps people engaged."
"We want them to be excited about what they find at the library," adds Lee Ann.  "There are lots of things to do in and around Somerset, and the library should be one of the things on that list."
Visit the library online to see everything it has to offer.