Vision2025, in partnership with the Community Foundation for the Alleghenies, distributed $11,500 to local volunteers through mini-grants called Capture Team Awards. The grants were announced at a news conference in Johnstown's Central Park.
The Capture Awards are an incentive program to assist volunteer-based groups, known as capture teams, complete projects throughout the community. Capture Awards have funded everything from public art and trail expansion to greenspace and entrepreneurial development.
Over the winter, the Capture Awards Selection Committee decided to seek proposals up to $5,000 for the first time ever. The two new levels of Capture Awards in the amounts of $2500 and $5000 are the highest award levels offered in the program's lifetime.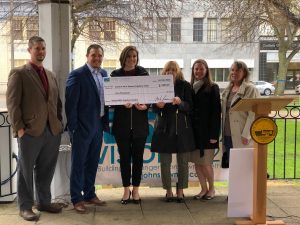 A $5,000 Capture Award was presented to the Central Park Square Capture Team. The team will use the funding to bring a new logo to life, printing the design on banners and other materials, and displaying the new logo around Central Park. The award will also support lighting upgrades around the park, creating better sight lines and upgrading security.
This project is sure to attract more shoppers and diners to Downtown Johnstown, and inspire pride in local residents.
"In the last year, we've taken many intentional strides to be a team with a solid plan and some very achievable goals within that plan. I feel fortunate to be a part of a team that's intensely invested in their community, and recognizes the importance of maintaining the beauty, safety, cohesiveness, and functionality of that community through projects like Revitalight the Square," adds Katie Kinka of the Central Park Square Capture Team. "Without the willingness of our members to collaborate and the dedication to show up for themselves and their neighbors, we definitely wouldn't have made it to the funding stages of implementation. We are so thankful that the Awards Committee recognizes the value of this project as much as we do, and we very much look forward to adding new vibrancy to Central Park Square."
A $2,500 Capture Award was presented to the Johnstown Nature Consortium.  The award will fund a map of the city's river and land trails. The map will help a consortium of Environmental Circle Capture Teams in efforts to rebrand Johnstown as a driver of ecotourism.
"The capture award that we received will allow us to continue the work of growing the River and Green Alliance by forming the Environmental Consortium with the current Vision2025 Environmental Circle teams. We will use this award to help develop a river, greenspace, and trails mapping system to support and promote ecotourism efforts," says Gary Weible of the Johnstown Nature Consortium. "In addition we will also use the award to design and implement a visible project around the Inclined Plane Trail and river access points."
Click here for a complete list of Capture Awards distributed at the press conference.
An additional $25,000 in Capture Team Award funding was announced by Mike Kane, President of the Community Foundation for the Alleghenies. Groups can apply for $500 and $1000 awards online at Johnstown25.com.
"We are thrilled at the progress made by Vision2025. From the outset, we've supported this undertaking to harness the indelible spirit of Johnstowners, and channel it into grass roots volunteerism," adds Mike Kane, President, Community Foundation for the Alleghenies. "Vision2025 has successfully empowered individuals to act on their ideas to make this area a better place. This effort will only get bigger and better as more people take part. Everyone in our community is welcome and encouraged to join a Capture Team or start a project of their own."
About Vision2025
The goal of Vision2025 is to build Johnstown into a vibrant and resilient community by attracting economic, social and environmental investment.  The program has broad support from Johnstown's business community, nonprofit sector community groups, public and government agencies.  Launched in fall 2015, it has over 1,500 participants actively engaged in a variety of grassroots development projects through a number of volunteer capture teams.
For more information on Vision2025, visit www.Johnstown25.com.