[cmsms_row][cmsms_column data_width="1/1″][cmsms_text]
Two new birthing beds at UPMC Bedford Memorial Hospital are making deliveries more comfortable.
"We were so happy, so excited they came. We couldn't wait to get them," says Tammy Lemin, Director of the OB, Medical, and Surgical Department.
The previous birthing beds were 20 years old, and constantly breaking down. Replacement parts were expensive, when and if you could find them. The beds were frequently out of service for repairs – which meant shuffling patients among different beds while they were in labor; an inconvenience, to say the least.
[/cmsms_text][cmsms_gallery layout="gallery" image_size_gallery="full" gallery_columns="3″ gallery_links="lightbox" animation_delay="0″]7905|https://cfalleghenies.org/wp-content/uploads/2017/03/IMG_1540-150×150.jpg,7907|https://cfalleghenies.org/wp-content/uploads/2017/03/IMG_1547-e1490130820200-150×150.jpg,7896|https://cfalleghenies.org/wp-content/uploads/2017/03/hill-rom-affinity-birthing-bed-150×150.jpg[/cmsms_gallery][cmsms_text animation_delay="0″]
The hospital's maternity ward is small – two rooms – but it's incredibly important to the 300 or so patients who give birth there every year. Tammy says these new beds are reliable, and will help them better serve those patients. "It's very helpful. Especially for our small hospital. Things like this are a big expense for us. It's hard to find funding, so it's nice to have other sources to go to so we can provide the best possible experience for the patient."
The hospital purchased the beds through the Walter C. Allen, Jr. Fund, which is part of the Memorial Hospital of Bedford County Foundation, and administered by the Community Foundation for the Alleghenies. Mr. Allen, a lifelong Bedford resident, bequeathed $2 million to support the hospital, in honor of his parents, Walter and Ethelle Allen. It's a major gift for a small, rural, hospital with few resources to count on. Since its inception in 2013, the fund has helped fill the gap between annual budgets and urgent needs, like the birthing beds.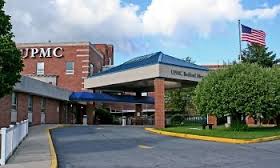 John Blackburn is Chairman of the MHBC Foundation and the Walter Allen Fund. He also chairs the hospital's Board of Directors. He says this outside funding is "pretty darn important. This gives us the opportunity to do things outside of the hospital budget that normally wouldn't get done."
That includes new communications equipment for the emergency department, called a telemetry system. The system allows emergency responders to scan a patient's vital signs out in the field, and send the data immediately to a doctor at the hospital. The doctor can evaluate the patient remotely and start directing care right away. This saves precious time, which is especially important in emergency situations.
The Walter Allen Fund is also paying for renovations to the hospital's outpatient unit. Every single outpatient room is getting a makeover — a lengthy process, which has been going on for about a year. Rooms are being spruced up, and brought to current codes. Everything has to be approved by the state health department. It's a massive undertaking that wouldn't have been possible if it had to be funded through the hospital's regular, annual budget.
If not for the Walter Allen Fund, new equipment and other upgrades could be put off for years. In fact, the birthing beds already had. In a very tangible way, Mr. Allen is still caring for the people of Bedford. "That's what legacy giving does," says Mike Kane, President of the Community Foundation for the Alleghenies. "It has an enormous impact on our communities, where the need is tremendous. Legacy donations like Walter Allen's can change our economic landscape in very exciting, very real, ways. We're always inspired by donors who want to empower our communities long after they're gone."
At UPMC Bedford Memorial, the Allen legacy comes full circle, as Mr. Allen's generous contribution ushers in Bedford's newest citizens.
For more information on charitable giving through end of life planning, contact Development Director Paula Hencel: phencel@cfalleghenies.org.
[/cmsms_text][/cmsms_column][/cmsms_row]