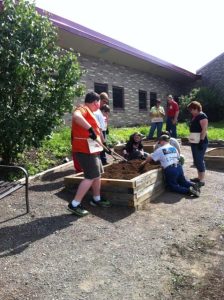 News from Carol Stern, Somerset County Community Funds
Community Garden at Rockwood (see photo, above)
With a very modest grant from the Benjamin Bosler Fund, the Life Skills students at Rockwood Area School District embarked on a new program this year. Working closely with other school groups and mentors, they planted a community garden outside the main door to the high school. Three raised beds were constructed by their classmates in the Tech Ed department. They planted a variety of vegetables, including onions, broccoli, zucchini, peppers and pumpkins.
The area's Master Gardeners assisted in starting the gardens and the entire school pitched in for the project, including the school board, administrators and staff. The Life Skills students maintained the gardens through the summer and the fresh produce was used to help teach culinary and nutrition skills.
Child Advocacy Center
In the summer of 2014, a safe haven for children was created at Somerset Hospital. Previously, when child victims of physical or sexual abuse or neglect needed to be evaluated or interviewed, they had to be transported to an out-of-county child advocacy center in order to protect their privacy and follow official procedures. This year, several funds at the Community Foundation made grants that enabled a Child Advocacy Center to be developed in Somerset County, giving the kids and adolescents the care, respect and expertise that they need close to home. The effort was a collaborative partnership that included the Foundation and Somerset Hospital, along with Somerset Children & Youth Services, District Attorney Lisa Lazzari-Strasiser, Victims Services, and the state police.
The Somerset County Community Funds now include:
Amateur Athletes Training Fund
Archangel Saint Raphael Fund
Louise S. Atwell Memorial Music Scholarship Fund
Bear's Quest 4 Rest Fund
Earl and Jeanne Berkey Fund
Berlin Brothersvalley School District Foundation Fund
*Boys & Girls Club of Somerset County Agency Fund
*Boys & Girls Club of Somerset County Fund
The Ernie Blough Memorial Fund
Breast Cancer Fund
*Camp PARC Helping Hand Scholarship Fund
Camp Allegheny Fund
Camp Cadet of Somerset County Fund
A.H. Chatfield, Jr. Memorial Scholarship Fund
Conemaugh Township Class of 1945 Arrowhead Award Scholarship
Conemaugh Township Area School District Fund
George and Eve Cook Charitable Gift Annuity Fund
Charles Crain Memorial Resident Director Fund
Cyndi's Hope Fund (In Memory of Cyndi Frankel)
Anonymous
Mary A. DeArmitt Scholarship Endowment for Shade Central City H.S.
Raymond DiBattista Johnstown-Altoona Diocesan Vocation Fund
Ray DiBattista Charitable Fund
Judy R. Drenning Scholarship
John A. Fiesta Family
Jane and Albert Francis Fund
Friends for Life: Damian Fain & Todd Parker Scholarship Fund
Gristmill Fund
Leah Guarino Memorial Scholarship Fund
Doug Harnden Memorial Scholarship Fund
HC "Joe" Harned Scholarship Fund
Hauger-Zeigler Memorial Fund
Richard Hay Somerset Disability Fund
Hit the Dusty Trail: Send Cancer Packing Fund In Memory Of Gary Fulton
Wendy Hollern Spencer Memorial Fund
Hyatt Walker Fleegle Memorial Trust Fund,Hyatt's Angels
iPACT Fund
Italian Abruzzi Cultural Heritage Fund
H.R. and Helen Konhaus Scholarship
Laurel View Village Fund
*The "LKG" (Love, Kindness and Goodness)Fund
Bryan J. & Catherine Ann Lohr Fund
Mina and Barney Lucas Fund
Frank and Bernice Lucente Community Service Scholarship Fund
Walter R. Mahler Memorial Scholarship Fund
Dr. Vito E. Mantini Scholarship Fund
Leona Marian Scholarship Fund
*Clifford Maust Scholarship Award Fund
*McKenzie-Raupach Scholarship Fund
Meyersdale Area Education Association Staff Memorial Scholarship Fund
Meyersdale Lion's Club Flag
Meyersdale Area School District Fund
FPL Energy Meyersdale Wind Power Fund
Alan L. and Lana J. Miller Family Fund
Bobby L. Miller Memorial Athlete Award Fund
*North Star School District Foundation Fund
Melissa O'Kinsky Scholarship Fund
*Paraclete Fund
Pine Grill Open Scholarship Fund
Pine Grill Open FBO Somerset Volunteer Fire Department
*Pittsburgh Zoo & PPG Aquarium International Conservation Center Fund
*Polish Falcons Nest #97 Scholarship Fund
Lucas Popernack Quecreek Mine Rescue Foundation Memorial Scholarship Fund
Quecreek Mine Rescue Foundation
Christopher "Bub" Ream Scholarship Fund
David J. Rizzo Scholarship Fund
Mae A. Russell Scholarship Fund
Salisbury-Elk Lick School District Fund
S.O.S.-Secret Santa of Somerset & Surrounding Areas
September 11th 2003 – Flight 93 Memorial Event Fund
Shade-Central City School District Fund
Shade Township Class of 1946 Scholarship Fund
Fred and Nancy Shaffer Scholarship Fund, in memory of Mark A. Shaffer
Tyler Shaffer Scholarship Fund
Cecil and Rose Sipe Memorial Fund
Somerset County Community Fund
Somerset Area Athletic Foundation
*Somerset Christian School Awards Fund in Memory of Michael Shaffer FBO Physically or       Mentally Disadvantaged Children
Somerset County Tech. Center Licensed Practical Nursing Scholarship Fund
Somerset County Rails-To-Trails Fund for Emergency Trail Maintenance Fund
Steph and Kris Scholarship Fund
*Stern Family Fund
James B. Stoughton and Louise Stoughton Maust Producers Fund
Tretter Family Fund
Windber Area School District Estate of Helen Solomon Scholarship Fund
Windber Borough Beautification Fund
Windber Rambler Lettermen's Club Scholarship Fund
WWII Commemorative Committee Fund
Frank and Assunta Yocca Family Endowment Fund
Nunzio S. and Flora D. Yocca Scholarship Fund
* New funds