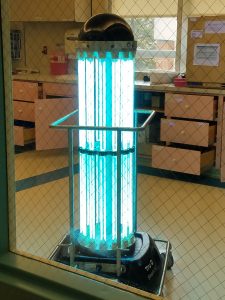 A new robot takes the dirty work out of disinfecting rooms at UPMC Bedford Hospital.
The hospital purchased the robot through the Walter C. Allen, Jr. Fund, which is part of the Memorial Hospital of Bedford County Foundation, and administered by the Community Foundation for the Alleghenies. Mr. Allen, a lifelong Bedford resident, bequeathed the hospital $2 million in honor of his parents, Walter and Ethelle Allen. Since its inception in 2013, the fund has helped fill the gaps between the hospital's annual budgets and urgent needs. It's a major gift for a small, rural hospital with few resources to count on.
The $87,500 Tru-D Smart UVC robot uses UV rays to disinfect rooms. The rays penetrate and damage the DNA of so-called "superbug" bacteria, reaching into nooks and crannies that humans sometimes can't reach. Nicknamed "Stevie," this robot will work in operating and patient rooms after they've been disinfected by the hospital's Environmental Services teams. This helps stop the spread of infection with an added layer of germ-zapping protection
Stevie is also environmentally friendly, using no chemicals, and relatively low electricity. It's operated remotely, through a smart phone app, and has automatic shut-off sensors in case a human walks into a room during disinfecting.
This technology is fast becoming a best practice in reducing hospital-associated infections, and is an additional support for UPMC Bedford's already-low rate of infection. Combined with standard protocols like handwashing, sterilization, and isolation, Stevie brings the future of cleanliness to Bedford patients.