Community Foundation for the Alleghenies relocated to a new, larger office in downtown Johnstown, to better serve our community and set the stage for continued growth. The move to 216 Franklin Street, suite 400 is the result of philanthropic progress throughout Bedford, Cambria, Indiana, and Somerset counties, which CFA manifests through increasing numbers of donors and subsequent grantmaking.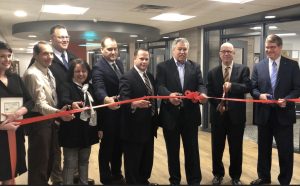 "Today is a great day!" said CFA President Mike Kane, at a ribbon cutting organized by the Cambria Regional Chamber. "By definition, a community foundation is a forward-looking enterprise. We work with donors to make our community better, now and in the future. Our motto, which is 'Benefitting the region everyday…forever,' exemplifies that. And now this wonderful new office exemplifies that, too."
The large open floor plan, with room for expansion, allows the Community Foundation for the Alleghenies to better serve donors and nonprofit organizations throughout our region. The space encourages engagement, with CFA staff and among other organizations, with facilities that are available to the community, and other essential resources coming soon. 
In addition to its open space, many of the walls are glass. Visitors can see into the boardroom, into the staff offices, even right through the front doors. "We want people to visit us," added Kane, "to see what we are doing. We want to remind people that CFA is an extension of our community, and this literal transparency is intended to stimulate more interaction. We want to  understand our local organizations better, and we want them to learn more about us." 
The Community Foundation Boardroom seats 30 people. Tables and chairs can be broken down and moved around to fit a variety of needs. Nonprofit and community groups are invited to utilize this space for free, even if they aren't affiliated with CFA. CFA understands that, sometimes, a seemingly small hurdle — like finding a place to meet and organize —  can frustrate grass-roots undertakings. With this hurdle out of the way, we hope to see more groups rallying to implement the good they want accomplish.
Later this year, CFA will open a nonprofit resource center within their new office, in what was once a law library. Volunteer groups and nonprofits – whether or not they're affiliated with the Community Foundation – will be able to use this facility to research funding sources and find out about best practices, networking, and other skills and ideas to help them grow. More information will be available about the resource center later this year. 
After 10 years rent-free courtesy of Somerset Trust in their building in downtown Johnstown, the Community Foundation outgrew that space, and AmeriServ Bank offered generous terms that made this move possible. 
"This is a great example of what can happen when private enterprise teams up with a nonprofit," said AmeriServ President and CFA board member Jeffrey Stopko. "We have a great tenant in our building, and we're able to help the Community Foundation with a space that will allow them to continue to the good work they're doing, with room for growth. That's great for our community."   
Local, county, and state representatives gathered at the ribbon cutting to congratulate CFA on the relocation and thank CFA staff for nearly 30 years of cultivating funds for nonprofit activity in our region.
CFA opened its doors 29 years ago with one $300,000 fund and a board of local business and civic leaders who understood the power of pooling local resources to fund local philanthropy. 
In the three decades since, CFA has grown, along with its impact. Today, we have more than 700 funds, which represent tens of thousands of donors. Distributions have grown from $14,250 in our first year of grants to more than $7 million in grants, charitable distributions, and scholarships in our last fiscal year. 
We've grown because of donors who entrust us with their visions for making this region a destination for future generations of families and businesses. And we've grown because of the organizations using these resources to meet our community's wants and needs. 
In celebration of this progress, here's a look back at some of our milestones: 
1990: The Community Foundation of Greater Johnstown is founded by Darryl Myers, Terry Dunkle, Richard Mayer, Gary Horner, Dan Glosser, John Kriak, Dr. Frank Blackington, D.C. Nokes, Kim Craig, Bob Eyer, Dr. Donato Zucco, Tom Slater, Dr. Robert Swanson, James Saly, and Bob Allen. Richard Mayer is the first Board Chairman. Bob Allen serves as its first Executive Director as an unpaid volunteer. The Dan and Marcia Glosser Fund is established with $300,000 as the first fund. 
1991: The Community Foundation makes its first grants totaling $14,250. David Kraybill is hired as Executive Director and Penn Traffic Company provides donated office space. 
1992: Assets exceed $1 million for the first time. The Ben Franklin Fund is established. "I wish to be useful even after my death," is a quote from Ben Franklin's 1790 will, in which he left a legacy for Pennsylvania to be distributed 200 years after his death. The Foundation receives $30,000, an amount proportionate to its share of the state's population. Distributions are used to support nonprofit initiatives. 
1993: The Foundation is renamed the Community Foundation of Cambria and Somerset Counties.
1994: AmeriServ Financial provides larger space as a donation to the Foundation in order to meet growing staff needs. 
1997: The Foundation receives a bequest from the Charlotte Ellis Estate in excess of $1.5 million. 
1998: The Foundation surpasses $5 million in assets. 
1999: The Foundation is renamed the Community Foundation for the Alleghenies and becomes active in Bedford County. Walter Bork leaves a bequest of $1 million in support of causes in Indiana County. 
2000: CFA receives $6.8 million to establish the Penelec Sustainable Energy Fund. An additional $2.5 million is also subsequently received. Grantmaking exceeds $1 million for the first time. 
2001: Dan Glosser is named Board Chairman and Mike Kane is named Executive Director. The Somerset County Community Fund is established with an anonymous match challenge to the Foundation of $100,000 that is met successfully by the people of Somerset County under the leadership of Ted Deskevich and others. 
2002: The 100 Families Project starts with a goal of raising $1 million in new endowment. The project eventually raises in excess of $3 million. 
2003: CFA surpasses $20 million in assets. 
2004: Through the Penelec Sustainable Energy Fund (and its counterpart, the Metropolitan Edison SEF), the Foundation lends $2 million to Gamesa to establish a blade manufacturing plant in Ebensburg, creating nearly 249 jobs. The Foundation moves into office space donated by Somerset Trust Company. 
2006: Mark Pasquerilla is named Board Chairman. 
2007: Grantmaking for the first time exceeds $2 million. CFA surpasses $30 million in assets. The Foundation receives $4 million from Memorial Hospital of Bedford Foundation. The Pennsylvania Department of Environmental Protection establishes the $2.2 million Susquehanna River Basin Commission Fund to treat the Bakerton AMD discharge in northern Cambria County. 
2008: Estate of board member Abe Beerman leaves the Foundation $5.9 million, its largest bequest to date. The Foundation opens an office in Bedford County in space donated by Mark Thomas at Penn Square Centre on South Juliana Street. 
2009: The Foundation opens a Somerset County Community Funds office in space donated by William Kimmel Law Firm. 
2010: Grantmaking exceeds $2.4 million, with 399 funds established. Foundation assets exceed $38 million. 
2011: The $2.5 million Robert Waters Economic Development Fund is established. The Foundation provides a $250,000 loan to assist with the completion of Peoples Natural Gas Park. Somerset Trust Company and Highland Tank each provide $50,000 in challenge match funding to double the Somerset County Community Fund's size to $500,000. The John P. Murtha Foundation supporting organization is established. 
2012: The Foundation surpasses $50 million in assets and distributes $3.7 million in grants and scholarships. The Berkey Legacy Remainder Trust provides a $900,000 endowment for the arts in Somerset and Bedford counties. $2.5 million is received from GenOn in support of watershed restoration in the Conemaugh Basin. The FracTracker Alliance supporting organization is established. 
2013: The Walter C. Allen Estate provides just under $2 million to support Bedford Memorial Hospital. 
2015: The Foundation reaches $65 million in assets, over 550 funds, and distributes in excess of $4 million. 
2016: CFA implements a five-year strategic plan, creating measurable goals toward increasing the impact of our donors. 
2017: CFA funds support 360 nonprofits with $7.8 million in grants and other charitable distributions. 
2018: The Foundation surpasses $70 million in assets.
2019: CFA starts the year with more than 700 funds, and move into our fourth official home at 216 Franklin Street in downtown Johnstown