As we usher in a new year—and a new decade—we have so many reasons to be enthusiastic about our region's future. Efforts to build on our manufacturing heritage and our beautiful natural resources have gained traction and sparked renewed hope for healing and growth, and we who live and work here are not the only ones to notice. Our area is landing positive attention, on a national scale.
Last summer, a profile in The Christian Science Monitor highlighted Johnstown's Center for Metal Arts and linked our region with a national "metalsmith revival." The blacksmith school also gained the attention of outside investors, with an announcement from Bridgeway Capital just a couple months ago.
Trails became the talk of the town this year, with new trail section dedications happening throughout summer and huge trail-related announcements—such as funding for Riverside Park and the Iron to Arts Corridor—making news this fall. The Tribune-Democrat wrapped up the year with front-page stories about the "optimism" leaders and residents feel, with outdoor opportunities and trail progress as key measures of success.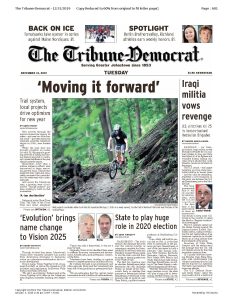 At the same time, downtown Johnstown and other neighborhoods are being transformed, lot by lot. Just look at Main Street and Central Park.
Construction began on Creator Square last summer and the program is on track to bring makers and artisans to live and create in downtown Johnstown in spring 2020. Gallery on Gazebo opened last spring and brought more people downtown to gather, enjoy Central Park Square, and patronize other new businesses in city blocks that have been re-energized.
Outside downtown, blight in the West End is being diminished and neighbors are responding swiftly with ideas for renewal. Our neighborhoods are getting greener and cleaner, and our community is coming together in astonishing ways.
Here's  just one example: through Vision Together 2025, more than 5,000 locals have stepped forward to volunteer over the past few years. A community perceptions survey conducted this fall showed that our community members are highly engaged, nearly twice the national average. Perhaps best of all, the survey showed that young people are especially excited about our region. That's news we see as a sign of hope and an indicator of transformational change. The next generation sees the value of where we live, who we are, and who we can be.
In 2020, we'll be doing everything we can to maintain and build on that momentum. You can, too.
Find out more at cfalleghenies.org/community.