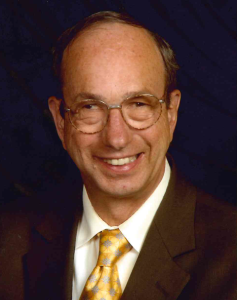 Jeff McCready was born into journalism. A third generation Johnstown reporter, his career seemed inevitable. It was a good one: Jeff spent more than 30 years at The Tribune-Democrat, starting as a general assignment reporter, eventually settling into the business beat. That's where the award-winning reporter earned a reputation for being thorough, trustworthy, and fair.
Jeff and his wife, Mary Jane, had made plans to honor his family legacy with a bequest in the McCready name. Mary Jane moved up that time table a few years after Jeff passed away from lung cancer, changing the trust into an endowment with the Community Foundation for the Alleghenies.
"It was just practical," says Mary Jane. "We knew our fund could distribute about a thousand dollars a year to help local students. If I live another 20 years, that's $20,000 dollars that will go to scholarships, and the original investment stays in tact."

Mary Jane set up the McCready Family Scholarship Fund, which supports UPJ students pursuing a degree related to journalism.
Even though Jeff went to Penn State, he wanted the fund money to stay in Johnstown. Mary Jane says that was a big priority for Jeff. "He was very local. He covered local business, he knew the business owners, and he knew where the economy was headed. He wanted to keep the money local."
Something else that was important to both Jeff and Mary Jane: helping average students from middle class families. The couple raised four kids in Johnstown and put them through college – all on Jeff's reporter's salary. The McCreadys felt first-hand the strain of paying for college, so Mary Jane made the scholarship available to B-average students.
Early awards will be $250 each – enough for books, or to cover food bills for a couple of months. Mary Jane hopes that brings some relief to a student struggling to make ends meet.
Even if that student graduates and leaves the area to find work, Mary Jane believes our community still benefits from the education. "Wherever they go, they'll take a bit of home with them and they'll help the economy when they come back to visit."
With the McCready Family Scholarship Fund, the McCready tradition continues, launching a new generation of journalists into a new age of storytelling.