Since she was 8 years old, Kayla Jones has spent her spare time coming up with ways to cheer up other people. A lengthy hospital stay plus the kindness of a thoughtful nurse showed Kayla how precious it can be to feel someone's care – even if that someone is a stranger.
At just 6, Kayla spent more than a week at UPMC Bedford Memorial, quarantined with pneumonia. That's a long time for a small child to lay in bed with nothing to do, so when her nurses brought Kayla some coloring books and stickers, she was elated.
Kayla got better and resumed her school routine, but her nurses' act of kindness stayed with her. Every day when she passed the hospital on the way to school, Kayla told her dad she wanted to pay it forward. "She would tape notes to my briefcase in the morning, saying call the hospital call the hospital," says Kayla's dad, Rick Jones. "I finally broke down and did it." All 4 Smiles was born, and a fund soon followed at Community Foundation for the Alleghenies.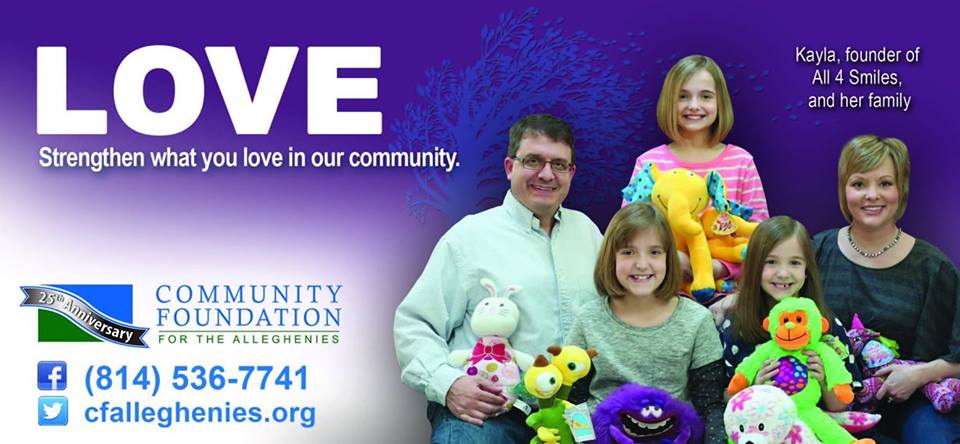 Now 15 years old, Kayla's passion project helps over a thousand children every year, by delivering stuffed animals to every young patient who enters the hospital. Each gift has a hand-written note attached, to let the kids know there's a loving touch behind each one.
"Originally it was just for kids who were staying overnight, but it snowballed into all the departments. Outpatient, kids who get a bee sting, a cut on the wrist, they all get a stuffed animal," adds Rick.
Little did she know when it all started that her selfless spirit would come full circle to save her father's life.
Rick was diagnosed with pancreatic cancer in December 2015. Right away, he started investigating life-saving therapies, and his case was taken up by doctors at Beth Israel Deaconess Medical Center in Boston – the teaching hospital for Harvard Medical School.
Kayla went right to work doing what she does best – keeping Richard's spirits up. She made her father inspirational drawings to lighten his mood, and left positive messages for him to find throughout his day.
"When you're laying in bed at night and you don't know what's going on — you can't sleep, you're pretty sick — Kayla would sit there with me and play music on her iPad. She kept pictures on her wall, a pancreatic cancer tree, to show my progress. She had everyone in school write get well cards. She was always thinking of me."
After a series of successful procedures, Rick still needed a liver transplant. He had two offers right away, from a childhood friend and a colleague. Then a third donor surfaced, who wanted to stay anonymous.
Heather Koontz was simply scrolling through her Facebook feed one day, when she saw a post by Julie Jones asking for anyone willing to donate a liver to her husband Rick. Staring back at her from the social media plea was the family she'd seen on billboards promoting Community Foundation for the Alleghenies' partnership with All 4 Smiles.
"There's not a whole lot to it," says Heather, who clicked the link and filled out a pre-screening questionnaire. "I thought 'why wouldn't I help this person?' I didn't expect to hear anything back, and then about two weeks later I got a call from the transplant coordinator who said I was a possible match. Then it got real."
It turned out the anonymous donor was a perfect match. As the reality set in of what she'd set in motion, Heather's resolve strengthened… especially as she thought about the girls on the billboard. Here was a family spreading joy to young hospital patients, now needing help. Also, one of her two daughters was in karate with one of the Jones girls. Heather couldn't walk away.
"The kids had more to do with it than he did," says Heather. "Between the testing and surgery, there's a lot of soul searching going on. When I looked at my daughters every day, and thought what if something goes wrong…? But then I also thought 'why would I not try?' I tell my girls they have to be the change they want to see in the world and have community spirit, how can I walk away from potentially saving a man's life?"
Heather also decided to let Rick know who she was before they went in for the transplant. That's what she'd want if their roles were reversed. So one day, Rick got a call at work from a woman who said she wanted to meet him. It was the day before a big tax deadline, and Rick, a CPA, didn't want to take the time – until she said "it's about your liver…"
Rick didn't know Heather off the top of his head, but Bedford is a small community and he soon pieced it together. They lived about a mile apart. Their daughters knew each other.
"Donor guilt" kicked in. Heather has kids, too, he thought – why would she risk her life, even if it's a small risk, to save that of a stranger? Then she mentioned Kayla.
"She said, look, it all comes down to this: I've been watching what Kayla has been doing for the community through All 4 Smiles. Just like she wants to pay it forward, I wanted to pay it forward, too." To Rick, that made sense.
The liver transplant went off without a hitch. The families became fast friends, bound by Heather's profound sacrifice, rooted in Kayla's selflessness and Heather's love for her own children.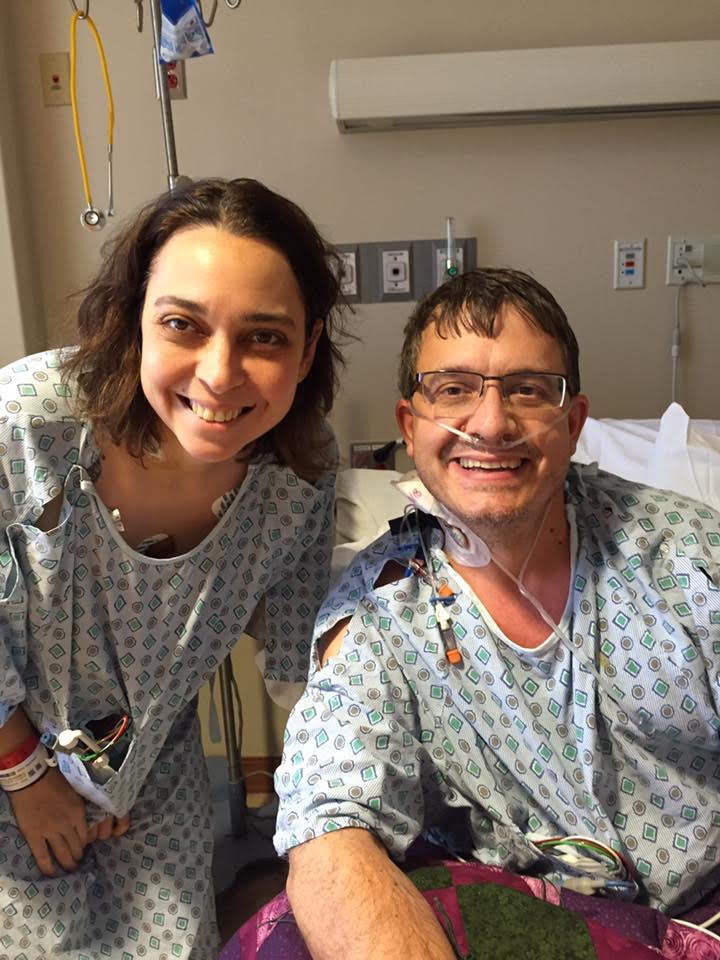 "It's the strength we get from them that makes us better people," says Heather. "That's where I got my strength was basically not being a hypocrite. It's not easy doing the right thing, and I can't tell my kids to do the right thing even when it's hard, if I don't do that myself."
Rick says she's nothing less than a hero. "Heroes don't always wear capes, right? That's the moral of the story — and now here we are friends for life, two families who live less than a mile from one another who may have never communicated except for passing in the store. Here we are, two families bonded over a liver and she saved someone's life."
Two families, grateful for the love they have in their lives, and sharing it with the world.