We're excited to announce a new partnership with The Bedford Gazette, to share stories about good people doing good work throughout the county. Our inaugural column focuses on Dorothy Krupa, who runs the Shawnee-Blue Knob State Park Complex and works tirelessly to create a space everyone can enjoy. Click here to read it on the paper's website. Keep reading to see it as it appeared in the paper's September 6 edition:
Love of the Outdoors 
Note: The Community Foundation for the Alleghenies is highlighting notable individuals of Bedford County. These individuals will be featured periodically in the Gazette by Ali Doty who is a communications specialist for the foundation.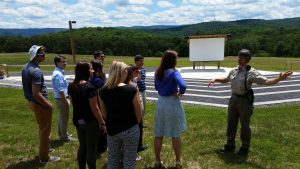 Dorothy Krupa credits her dad with her love of the outdoors.
"My dad was a country boy. He took us hunting and fishing. We'd walk in the woods on Sundays, and he'd teach us about plants and animals. He created our appreciation and love of the outdoors."
When you look at everything she's accomplished as park manager for the Shawnee-Blue Knob State Park complex, it's hard to believe Krupa has only been at the helm for six years. Her tenure has seen the creation of Arts in the Park, Bike Bedford County, 5th Grade Career Day, a 4th of July Fireworks show that brings in 10,000 people each year and, capping it all off, the 2017 State Park of the Year award.
"She thinks bigger than what a traditional state park is for, and she thinks about how to make the state park part of people's lives," says Bedford County Chamber of Commerce President Kellie Goodman Shaffer, who mentions a recent day when Krupa joined Shaffer to paint a road for a local bike race. "She comes from a place of 'yes.' She doesn't think about why an event can't get done; she thinks about how it can get done."
Krupa says yes — a lot. Whether serving as secretary of the Bedford Sunrise Rotary Club, or getting her hands dirty painting road lines for a local bike race, along with Shaffer. She says yes to collaborating with the Bedford Chamber. She says yes to working closely with Friends of Shawnee, a nonprofit volunteer group that works to bring events and programs to the park. And she says yes to local schools and government agencies, ensuring the park's relevance to every member of the community.
"I guess maybe because I don't like the opposite," explains Krupa. "We all see in life where there are regulations and bureaucratic policies and practices that slow us down and stop us. While there's a black and white letter of policy, there's an intent of a policy. There needs to be a human interpretation of the policy."
She's seen a lot of that humanity. Krupa grew up in Philipsburg, spending hours on end exploring the nearby woods and streams with her brother and father.
"I credit my dad with making us love the outdoors and I credit my mom with tolerating it," she adds good-naturedly. Krupa grew up to be a law enforcement specialist in the Air Force, as a staff sergeant E5. When she arrived in Bedford, she had been with the state's Department of Conservation and Natural Resources for more than 20 years.
Her combination of vast experiences, along with enthusiastic leadership and community spirit, is a big reason Shawnee Park projects have secured thousands of dollars in funding from organizations such as the Community Foundation for the Alleghenies.
"CFA's Berkey Fund, in particular, has awarded a total of $7,000 to the Friends of Shawnee in the last few years, to support Arts in the Park and Fireworks on the Lake," says foundation President Mike Kane. "It's an investment that makes sense when you have a partner like Dorothy in control, working well with everyone involved, ensuring those projects are successful."
While proud of those successes, she doesn't take all the credit. Krupa is quick to point out vital support from the nonprofit Friends of Shawnee, along with her staff 's willingness to get out into the community, speaking at career fairs, lending their expertise as rangers and naturalists, and maintaining beautifully clean, safe facilities.
It's a team that makes possible the Park's wide variety of high-energy programming for all ages, which Krupa believes is essential to the Park's continued relevance.
"State parks will survive over the long term if they have a value to the people," she says. "So that is the most important thing we can do is be a resource and be a place that adds value to people's lives."
Krupa's value is undeniable. With her willingness to collaborate and think creatively about integrating the park experience into contemporary lifestyles, she's encouraged an environment that preserves traditional outdoor activities while welcoming new ones.
She takes seriously her stewardship of the community's health and happiness.
"We take care of the place where people come to enjoy their life when they're not working. They enjoy their family and friends here. Even by yourself, at the park you can enjoy life for a while."
Dorothy Krupa will love to see you out there.