[cmsms_row][cmsms_column data_width="1/1″][cmsms_text]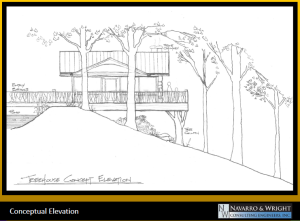 A collaboration among local and national nonprofits is unleashing the power of outdoor play for healthier families and a stronger community.
Small Town Hope, Inc., is building a Treehouse in Northern Cambria County's Susquehanna Township. The 800-square-foot facility will be a place for little legs to climb and run, for families to spend quality time together, where imagination is fueled by nature and engagement with the great outdoors. The Treehouse will also provide programming throughout the week aimed at improving health and building stronger communities.
"Fresh air, no alarms, and no cost." says Small Town Hope founder Mandi Paronish. "Just a place and some space to soak up the beauty and charm of a small piece of earth," which is much needed in this rural area, lacking in places where families can spend time together doing healthy activities. It's a need Mandi sees first-hand, as an experienced pediatric nurse, owner of Hope's Villa Children's Center in Northern Cambria, and as a community member who cares passionately about the children growing up here.
[/cmsms_text][cmsms_gallery layout="gallery" image_size_gallery="full" gallery_columns="3″ gallery_links="lightbox" animation_delay="0″]10816|https://cfalleghenies.org/wp-content/uploads/2018/01/treehouse-play-concepts1–150×150.png,10817|https://cfalleghenies.org/wp-content/uploads/2018/01/treehouse-play-concepts2-150×150.png,10819|https://cfalleghenies.org/wp-content/uploads/2018/01/treehouse-play-concepts4–150×150.png[/cmsms_gallery][cmsms_text animation_delay="0″]
Through an exciting partnership with the Mario Lemieux Foundation, the Treehouse will host an Austin's Playroom. These rooms are part of a Lemiuex Foundation initiative dedicated to creating playrooms for children and families in medical facilities. The partnership provides initial and ongoing funding for the Treehouse. Go here for more details.
"I am proud to be a part of Small Town Hope because we are changing hearts and minds of all the children we interact with one day at a time," says Katie Toole, Small town Hope Board Chair. "There are several programs and activities, which Small Town Hope generates, and Austin's Playroom is an enormous part of that. We are so grateful to be partnering with the Mario Lemieux Foundation to allow children of all ages to experience the security of a safe environment with a fantastic atmosphere located within a rural community. Thank you Mario Lemieux Foundation for making this dream a reality so all the children can benefit!"
The $350,000 project has also received widespread support closer to home. The Community Foundation for the Alleghenies provided $10,000 in 2017, in addition to two previous grants, for a total of $16,000. Lee Initiatives has provided additional  financial support, along with numerous local business and agencies.
The Treehouse is a place where dreams can kindle while families connect. As Mandi puts it, "All children despite location or medical needs deserve an opportunity to be well. Instead of waiting until wellness depletes and care is required, Small Town Hope believes in promoting and maintaining wellness and preventing harm. We strive to engage children socially, physically, mentally, and psychologically to support growth and development. Our approach promotes health and safety through an array of programs that are safe, inspiring, and fun!"
The Treehouse is expected to open later this year. Go here to follow or support its progress.
[/cmsms_text][/cmsms_column][/cmsms_row]