Pittsburgh native Ian Smith discovered Johnstown's Greenhouse Park a decade ago, looking for places to river surf. Greenhouse Park happens to be one of only two engineered whitewater parks in Pennsylvania, making it a popular destination for paddle boarders and whitewater sports enthusiasts from near and far.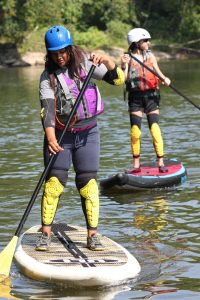 Along the Stonycreek River, he found much more than a beautiful place to enjoy the water.
"When I first started paddleboarding, looking for places to go, I was drawn here by whitewater park," says Ian. "I was welcomed here. I made great friends, and I loved spending time on rivers here and meeting people who shared a passion for this area."
Soon, he started SurfSUP Adventures, bringing in groups of people to learn the unique form of surfing. Not long after that, Pennsylvania's Department of Conservation and Natural Resources asked if he'd think about sharing his enthusiasm with local kids who otherwise might not have access to the resources to try paddleboarding.
As Ian tells it, that suggestion changed his life. "The kids loved being out on the water, not worrying about any troubles they may be enduring, and discovering a passion for the outdoors and natural world," he says. "They learned to appreciate using the river's power, doing something fun, and doing it in a safe way."
It turns out, Ian loves teaching — and the transformation he witnessed when urban kids engaged with nature right in their own back yard. His vision for these young people quickly grew beyond river sports, as he saw an opportunity to parlay summer fun into the next generation of environmentalists. Ian enlisted a team of Pittsburgh companies and nonprofits including The Sprout Fund and Pittsburgh Filmmakers. Together, they created a summer program that provides hands-on education in surfing, filmmaking, digital media, and watershed conservation to Pittsburgh teenagers. After a successful launch there, Ian looked toward Johnstown, and came to the Community Foundation for the Alleghenies to figure out how to pull it all together.
First Waves teamed up with the local Benscreek Canoe Club for expertise and equipment, along with Pittsburgh Filmmakers, Bottle Works, and other arts organizations, and launched its full program in Johnstown with support from a $2,500 CFA grant. Organizers worked with local agencies to find the kids who would benefit most. These young people worked closely with mentors, learning to river surf. They learned about conservation and fished huge amounts of trash out of the Stonycreek. They made movies of their experiences, documenting the program in first person. The teens made new friends, developed confidence, found a creative outlet in filmmaking, and gained command of cameras and editing software.
Johnstown-area teenagers arrived as nature novices, some of them unaware that these resources existed so close to home. The program connected them with the therapeutic beauty of the Stoneycreek and surrounding woods. It empowered them with new skills.
This year, First Waves goes even further. With another $2,500 grant from the CFA and a new partnership with Tree Pittsburgh, the teens will leave their mark in Greenhouse Park with a tree planting. They'll meet with tree experts to learn about the importance of trees, which species are best for this area, how to care for them, and how green space improves the community.
One man's quest for the perfect river wave has developed into a robust summer program for kids who wouldn't otherwise have access to these kinds of life-enhancing activities. First Waves and its partners have channeled the energy of impressionable teens into sports, social skills, conservation education, filmmaking, and an army of young Loraxes who may, one day, speak for the trees.