A glass kiln is expanding educational programming and boosting creative opportunities at the Community Arts Center of Cambria County. The kiln was purchased with a $3,200 grant from the Community Foundation for the Alleghenies' Robert Waters Economic Development Fund, as part of the its 2016 Fall grant distribution.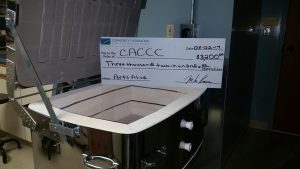 The CACCC unveiled its new Glass Fusion Studio in February, the only one of its kind in Cambria County and surrounding areas. The studio gives the opportunity for tiles, trivets, ornaments, bowl making, slumping, 3-D projects and jewelry making. Two inaugural workshops, serving 20 people, quickly filled up. "This new chapter in the Community Arts Center's history is very exciting," says Angela Godin, CACCC Executive Director. "Our first round of workshops were completely full and even had waiting lists. We hope to continue offering more workshops and classes to accommodate everyone interested."
Stained glass and mosaic classes are a critical part of the Community Arts Center's Art Education Department. The new Glass Fusion Studio provides a permanent home for these already established areas and broadens artistic opportunity by creating a complete Glass Studio Division. Education Coordinator Lida Hood is currently developing a multi-level curriculum of glass fusion techniques and skill building. Artistic works will be created during the quarterly art session in workshops or six-week courses. Children's classes and/or camps will be done in six-week sessions and/or 3-day camps. Lida says these classes take the Art Center's offerings to a new level: "I'm excited beyond words to be a part of this new endeavor and to be able to see it come into being. To be able to offer classes like this to our students will be very rewarding."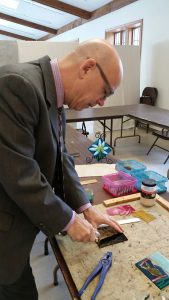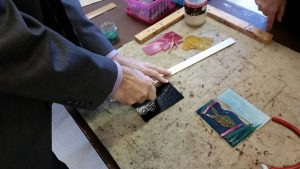 This type of project is integral to the region's cultural and economic progress. It elevates quality of life, expands educational opportunities, and provides access to technological advances in creative and fine arts. "The Community Foundation for the Alleghenies is proud to support the Community Arts Center of Cambria County through this grant," said Angie Berzonski, CFA Program and Communications Officer. "In reviewing this project, our Distribution Committee appreciated their efforts to integrate new arts technology and was excited about the opportunities that the glass kiln will provide."
Spring workshops are open for registration, and expected to fill up quickly. Find out about all of their available classes – for children and adults – at the Community Art Center's website.
For more information about CFA grants, contact Angie Berzonski: aberzonski@cfalleghenies.org.