November 12-16 is Community Foundation Week, a time to celebrate the work of nearly 800 community foundations across the country. Here at Community Foundation for the Alleghenies, we're reflecting on the special partnerships we have with our donors, who create the funding that empowers nonprofit initiatives throughout Bedford, Cambria, Indiana and Somerset Counties.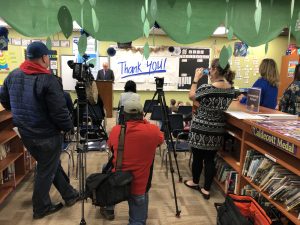 CFA President Mike Kane wrote a column about that, which was published in the November 14th edition of the Tribune Democrat. Click here to see it as it appeared on the TribDem website.
Have an Impact on the Future of Your Community
Mike Kane, President, Community Foundation for the Alleghenies
This week, Community Foundation for the Alleghenies will announce more than $225,000 in grants going to 84 nonprofit initiatives throughout Bedford, Cambria, Indiana, and Somerset counties.
This funding comes from an engaged, compassionate community of donors. Our partners – individuals from our region who come to us with a vision for making a difference – feel empowered to impact their communities, and they entrust us to carry out their goodwill through grantmaking and other charitable distributions. Last year, this amounted to more than $6.3 million granted to 366 nonprofits, all of them working to make life better for each of us living and working in the Alleghenies.
Community foundations across the country are uniquely situated to improve their regions through supporting innovative solutions and creating powerful partnerships. From November 12th to 18th, we celebrate Community Foundation Week, a time when we can share and reflect on the stories of impact over the last year. Though you may not yet know your local community foundation, you've likely felt its impact.
That's because Community Foundation for the Alleghenies and the more than 795 other community foundations across the country help to bring donors and residents together. Community foundations work to support the efforts that will help the places we call home continue to flourish and grow.
Drive through downtown Johnstown and you'll see numerous examples of projects we have supported through strong collaborations: the Discover Downtown Johnstown Partnership's Christmas wonderland in Central Park; the planting of nearly 100 new trees through Vision2025's Capture Teams; renovations at four cultural arts organizations through the Cambria City Cultural Partnership; the blacksmith workshops at the Center for Metal Arts; and the improved trail access and upgrades through Lift Johnstown.
Community Foundation for the Alleghenies stands behind each of these initiatives, providing not only funding but the networking community leaders rely on to make a project successful. Our team works closely with dreamers and changemakers, and pairs them with the funding they need to see those dreams comes true. We've been doing this for nearly 30 years. Our roots run deep here.
As we enter the giving season, millions of people from every background will be looking to give back to the communities that have supported them. They'll also look to ensure that their heartfelt giving—however they choose to give—will have the most impact. That's why so many of them will choose to give to a community foundation.
A gift to your local community foundation is an investment in the future of your community. We like to say that community foundations are "here for good." At Community Foundation for the Alleghenies we not only think about today, we think about the next generation and the next after that.
That can seem a daunting task, but it's one that we all share. During Community Foundation Week, I hope you'll join us in recognizing our collective impact and the difference we can make together.
For more information about starting your own fund, contact CFA President Mike Kane: mkane@cfalleghenies.org. Follow us on Facebook and Twitter for more about our work in the community.