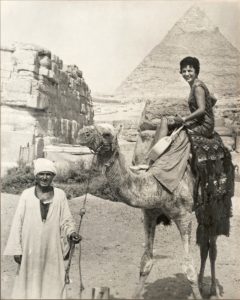 One of Sarah Shahade's greatest joys at the holidays has been wrapping presents for her sister Genevieve and sending them to her back at home. Sarah knew how much Genevieve loved the moment of surprise that each gift brought her.
Genevieve passed away this year, leaving a deeply felt hole in Sarah's holiday shopping list. "I couldn't decide what to do for the longest time," said Sarah. " All of a sudden it came to me. I really miss wrapping up presents for her, so I thought, why not create a scholarship for her."
Sarah's sharing that bond of sisterhood with students from their hometown. The Genevieve Milke Scholarship Fund will support Westmont and Johnstown High School graduates pursuing a degree related to music. It's Sarah's Christmas gift to her sister, whose first love was song. "Genevieve loved to sing, she really loved it. She had a gorgeous voice, sang choir, she went around to different homes at Christmas to sing. She loved it."
This is the second scholarship fund Sarah's established through the Community Foundation for the Alleghenies in honor of her beloved siblings. The first memorializes her two brothers, Robert and Theodore Shahade.
Although she's lived in Washington, D.C., for all of her adult life, Sarah's invested these scholarships in the region of her youth. She remembers a vibrant downtown Johnstown, and believes the way to revival is through education. "Education is the way to make things better. Maybe some of (our educated young people) will stay in Johnstown instead of leaving town."
Sarah, herself, has lived a full life. With her success she's been able to travel the world, developing a deep appreciation for different cultures and artistic expressions. In creating her scholarship funds, she brings those experiences to Johnstown, supporting access to education that can create a new generation of artists and adventurers.
To Sarah, it's "a Christmas present to my sister." It's also a gift to young people who share that love of song, and those of us who get to hear it.