Growing up in Florida, Olivia "Liv" Red was full of sunshine. She loved sports, soccer in particular, and rose through school and club teams to compete internationally. When she graduated from high school, Liv had her pick of schools and her pick of soccer teams — but she chose to come home to Johnstown, where she had spent her early childhood years and summers throughout her teens. 
"I have so many pictures of her here," says Nicole Levis, Liv's older sister. "We taught her to fish. We went to Raystown Lake. She took annual camping trips to Prince Gallitzin Park. She loved the snow. The outdoors were a huge part of what she loved about Pennsylvania." 
Olivia was just six years old when she moved to Florida from Johnstown with her mother and younger brother, leaving behind two older sisters from her mother's first marriage, along with a network of aunts, uncles, and grandparents. Nicole and Stephanie Urban, their other sister, were as maternal toward "Liv" as they were sisterly. They looked out for her, mentored her, and guided Liv as she embarked on life as a young adult. 
They were thrilled to finally have her home for good.
"I talked with her for years about life, and she was just starting to make all the right decisions," adds Nicole. "She got a house in Indiana with her boyfriend, got a dog, got her first full time job, helping veterans."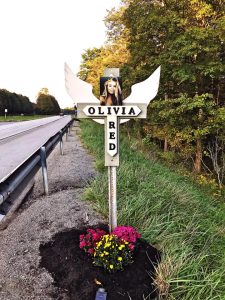 It all came to a sudden, tragic end, when Olivia was killed by a drunk driver. She was heading home from work. He was leaving a work party in Richland. Olivia never knew what hit her.
"I had all these hopes," says Nicole. "The summer before she passed, she stayed with me for a month. It was all good. Me, Stephanie, and Olivia. We all felt whole again."
That goodness is what Stephanie and Nicole cling to in their grief. Together, they've created the LivRed Foundation Fund, to foster the kindness that defined Olivia. 
"She was beautiful but not just 'movie star beautiful,'" says Stephanie. "She was beautiful for the way she thought, she was beautiful the way her eyes lit up when she talked about something she loved, she was beautiful for her ability to make other people smile even when she was sad. She wasn't only beautiful for her looks, but she was beautiful deep down in her soul." 
The fund, housed at Community Foundation for the Alleghenies, will support the "Side by Side Humanitarian Award," an annual scholarship for two high school seniors who serve others in need. In this way, they hope to inspire waves of goodness, and keep alive everything they miss about their little sister.
"Loss is sometimes a terrible injustice," says CFA Donor Services Officer Katrina Perkosky. "We help families cope with that devastation by channeling their grief into good works, until that loss is filled with grace."  
"We just want to go out and have events that are good for our community," adds Nicole. "CFA allows us to do all the good without all the paperwork of maintaining a nonprofit."
Stephanie and Nicole are focused on raising awareness about the dangers of drug and alcohol abuse, and providing a safe network for kids to get help if they need it.
They've already teamed up with other local organizations for two events. Along with Remembering Adam, they'll rally Conemaugh Valley students to community service for an Adopt-a-Highway outing May 31st. That will be followed June 1st by a booth at the Richland Galleria they'll share with Mothers Against Drunk Driving. 
One event at a time, Olivia's family is moving forward, spreading her joy — a joy that can never fade.