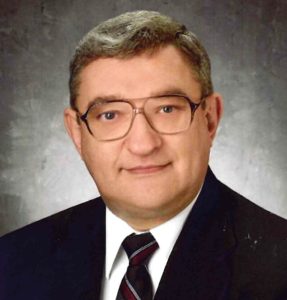 Rita and Phil Marcinek had a passion for helping people. Together, they started Victims Remembered, after the murder of Rita's father. For years, the couple helped other victims' family members find the resources to cope with devastating loss.
When Phil passed away suddenly, Rita wanted to turn that passion for helping others into a way to honor her husband. "There's still someone benefiting. There's always a connection to helping people."
Rita worked with the Community Foundation for the Alleghenies to create the Philip A. Marcinek Scholarship Fund, celebrating Phil's teaching career. 2017 marks the award's 5th anniversary.
During nine years at Westmont Hilltop, then 18 years at Windber High School, Phil taught social studies; coached football, basketball, and wrestling; and ran a first-rate video club for Windber students. Rita says it was a job that extended beyond the classroom. "Phil was really sincere about everything. And he cared. He really truly cared. In their academic life, their private life, sports, he was genuinely interested in his students."
That devotion made Phil one of Windber's most beloved teachers. For nearly 30 years, Phil's students and fellow faculty were family to the couple who never had children of their own. "He was a good role model," says Rita.  "And I think young people today really need good role models. Not just in his profession, but in his community and in his church. Kids today tell me they're involved in their community and their church, like Phil was. They've accepted what he taught them and they're living it in their lives."
The Marcineks are helping those young people continue their education, with the $1,000 award for Windber High School graduates who go on to any post-secondary school. The Marcinek Scholarship goes directly to students so they can use it in whatever way they need.
You get a glimpse of the impact it's having from thank-you notes past recipients have sent to Rita. One student writes, "It will help ease the financial burden that college brings. I will be sure to work hard so that Mr. Marcinek's memory and teachings live on."
Another students writes: "The award I received will greatly affect my goals and motivate me to do my best, and never give up."
And still another: "The money for this scholarship went to good use. I bought a 2005 Ford Focus to get to and from school in the Fall. I look up to you and would like to let you know that you are an amazing woman."
Rita says Phil would love to read these letters. "He would just be proud of this, that they have the foresight to know knowledge is power and if you want to get ahead you need a good education."
As for Rita, she, too, is looking ahead. Rita poured her heartache out into poetry, and is now a published writer. "Sometimes tragedy and things that happen in your life present opportunity if you're open to it."
Together, the Marcineks are still teaching, shining their light on opportunity for another generation to follow.