Bearcat Golf Tournament
September 8, 2019 @ 8:00 am
$100 – $250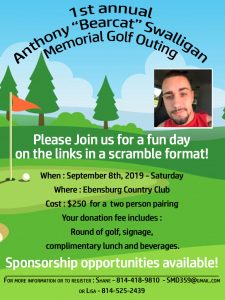 Enjoy a fun day on the links in a Scramble format. You can sign up a team of four golfers, or sign up individually and be paired with other golfers looking to make a difference in the community of Johnstown. Each entry will come with complimentary lunch and beverages provided at Ebensburg Country Club.
About the event: Anthony "Bearcat" Swalligan was a son, brother, uncle, cousin, and friend. He is missed everyday by those who loved him. He left a lasting impression on everyone who met him. He was truly a one of a kind individual who left this world too soon.
Anthony lost his battle with addicition on February 23rd, 2016. The following year his family and friends hosted the first ever Anthony Swalligan Memorial 3 on 3 basketball tournament. The tournament was able to raise enough money to bring Chris Herren, former NBA player and person in long term recovery, to Johnstown to speak with local high school seniors. The golf tournament carries on the tradition.
Hole sponsorships are also available. Click here to reserve tickets.