At Community Foundation for the Alleghenies' annual Founders' Day on Thursday, the Foundation's 2019 Youth Philanthropy Interns awarded $50,000 in grants, the culmination of a program that allows them to assess community needs, understand nonprofits, and participate in grantmaking first-hand.
The interns spent weeks conducting research, site visits, and interviews and then selected two areas of interest to impact: promoting wellness and repurposing community assets. In July, they released two requests for proposals for organizations and projects that could make a difference in those interest areas. This week, they evaluated a total of 20 grant applications and selected projects they felt best matched their goals.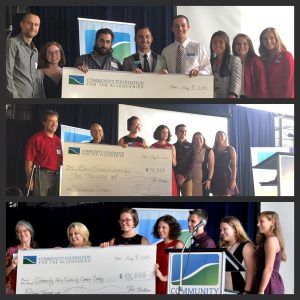 The "Repurpose, Regenerate, Revitalize" team was led by senior intern Jonathan Guaetta and included Reagan Hajjar, Hannah Slope, Quinn Spangler, and Jenna Stofko.
The "Repurpose, Regenerate, Revitalize" YPI Team chose to award their $25,000 grant to the Center for Metal Arts (CMA) in Johnstown. The team's mission is to repurpose the region's historic past, regenerate its promising present, and revitalize its optimistic future—and they decided CMA was doing exactly that.
The Center for Metal Arts plans to use the funding to repurpose the Guard Shack by the Bethlehem Steel Pedestrian Bridge into an incubator that will act as a "stationary food truck" for pedestrians, workers, and the entire community. Their plan is to host local chefs and/or culinary artists to take over the mini-restaurant throughout the year to provide opportunities for rising entrepreneurs and students in the area. By repurposing this historic building, CMA will be uniting people and businesses and providing a new asset to the region.
The "Whole Person, Whole Community" team was led by Maggie Blaisdell and included Brendan Veney, Rebecca Johnson, Sophie Hochfeld, and Cameron Pressel.
The "Whole Person, Whole Community" YPI Team chose two grantees. One grantee is the Community Arts Center of Cambria County for their program, "Young at Art." The art center will be receiving $15,000 to use art classes in numerous mediums to promote cognitive reasoning, physical agility, mental wellbeing, emotional release, and a sense of community through artistic projects and skills for adults in the region.
The team's second grantee is Saint Francis University's Therapeutic Gardening Initiative for Adults in the Tri-County Area. This initiative will be receiving $10,000 to start their project in collaboration with the Cambria Care Center. The initiative will create an outdoor gardening space for the residents of the Cambria Care Center. Students of Saint Francis University also will visit the center to interact with residents, which will help promote adult wellness, individually and as a community.
CFA Program Officer Angie Berzonski has coordinated the Youth Philanthropy Internship for the past six years.
"Each year I am impressed by the caliber of proposals that our local nonprofits submit to our interns," Berzonski said. "This year was no exception. The interns really had difficult decisions to make. I thank each of them for dedicating themselves whole-heartedly to this program, for taking it seriously, and becoming true youth philanthropists. The debates they have had in our office over the past few days as they have evaluated the pros and cons of the 20 proposals that were submitted have shown us that they have learned quite a bit this summer and that they take the responsibilities of this grantmaking very seriously."
The Youth Philanthropy Internship is made possible by generous funding from The Heinz Endowments. The Heinz Endowments is devoted to the mission of helping our region prosper as a vibrant center of creativity, learning, and social, economic, and environmental sustainability. Core to the Endowments' work is the vision of a just community where all are included and where everyone who calls southwestern Pennsylvania home has a real and meaningful opportunity to thrive.