Don't be surprised if you hear the strumming of a ukulele the next time you're in Confluence.
At Turkeyfoot School District, there were no music teachers or music classes – nobody sharing the region's musical heritage with the next generation. A new program is bringing those unique sounds back to life.
About 50 Turkeyfoot elementary school students are playing the ukulele, thanks to the Confluence Creative Arts Center. "The music lessons are both fun and educational to the students. They not only learn to play music but it also teaches them socialization skills and how to work in a group," says CCAC director Jody Best.
Building Community Through Music provides music classes and instructors to the school district, reviving and preserving the region's musical heritage, and bringing culture to a community where these opportunities are limited.
Why ukuleles? "They are a great beginning instrument," Jody said. "You can pick one up for an hour and learn two chords. It's also great for the younger age groups because even if you don't know the chords, you can pick one up and strum along in the group." Just a one-hour session is enough practice for the children to attend the evening jam sessions.
Students in 4th, 5th, and 6th grade fully engage in their lessons at school, eager to ask questions and perform for younger students, parents, and the public. A few times a month, those classes extend into evening jam sessions at the CCAC, which include musicians of all ages and abilities. Some of the students love it so much, they formed a ukulele group that performed at the school Christmas concert last year – and the evening community jam group made an impromptu performance at the Turkeyfoot Area Historical Society's Christmas party.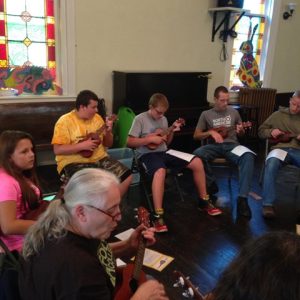 It's all because of the Confluence Creative Arts Center's commitment to bringing high quality performers and instructors to the entire community. "We've brought in a wide variety of acts," adds Jody, "some of the best musicians and artists in their field… in keeping with our dedication to making the arts as accessible as possible to families and individuals who live in our economically disadvantaged community."
A $5,000 grant from the Community Foundation for the Alleghenies covered a good portion of the program's supplies – 15 ukuleles with cases, plus fees for instruction by Simple Gifts musicians.
After just a year of these classes and community jam sessions, the impact is profound. Students can be heard throughout town humming traditional tunes that they learn in music class, plus they gain real-world experience in teamwork, and benefit from mutigenerational fellowship.
The now-beloved ukuleles are such a hit, organizers are keeping the program in the elementary school, and expanding it into the high school. "We know there are older students dying to have music electives," says Jody.
The Community Foundation has also provided funding to the Tussey Mountain school district for a similar program.
This small, stringed instrument plays the sounds of joy, with a fun, new way to bring together everyone in the community.