If you've been to any of the Johnstown Symphony Orchestra's performances in the last few years, you've been treated to a unique blend of innovation and art. For nearly 90 years, this local treasure has survived the cycles of fashion and economy. Today, it not only persists, it thrives – with talent and creativity that makes the symphony as relevant as ever to multiple generations of listeners.
You can't have a great city without great cultural institutions, and here in the Alleghenies, we have our fair share: the Johnstown Concert Ballet, Johnstown Symphony Orchestra, Laurel Arts, SAMA, Mountain Playhouse, BottleWorks, plus historical centers, state and national parks, and countless other outlets for cultivating and creating art.
Most often, funding for these nonprofit organizations fits together like a puzzle, piecing together proceeds from classes or performances, with appeals for support from the communities they serve. They're also subsidized by grants, many of which are funded by individuals who understand the great value these arts organizations add to our lives.
"Designated Funds give us a vehicle for preserving and promoting some of the great institutions that build upon our region's heritage and give us our distinct cultural identity," says CFA president Mike Kane. "The individuals who partner with us to establish these funds see these organizations as the beating heart of our region, and understand how important they are to healthy communities."
Designated Funds provide ongoing financial support to existing organizations, designed by someone who collaborates with CFA to empower those groups already doing tremendous good in our communities, and to help them do more. Last fiscal year alone, Designated Funds with CFA awarded a million dollars to nonprofits of all types and interests throughout Bedford, Cambria, Indiana and Somerset counties, having a major impact on the arts in our communities.
This impact is felt when a child picks up a paintbrush for the first time and learns to communicate in a whole new way, or when a family connects through the shared experience of live theater. You feel it when you gain even a slightly better understanding of someone different because of a sculpture or a poetry reading. We all feel it when companies bring their business here because of the well-rounded lifestyle our communities offer, which includes culturally-enriched activities for a wide range of interests.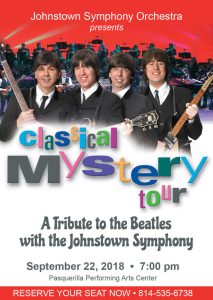 "The support we receive from individuals through their CFA funds is essential to the programming we provide," explains JSO treasurer William Locher. "It takes a combination of ticket sales, fundraisers, private donations, and grants like those provided by designated and other funds to maintain a fresh, engaging symphony that serves our whole community."
That combination is on full display in a few days, when the Johnstown Symphony Orchestra brings the Beatles to town in a Classical Mystery Tour. After the concert, benefactors will come together with friends and family to support the orchestra at a robust silent auction. The event will undoubtedly prove the power of art to unify and uplift us. With its staying power, the JSO once again meets a demand for experiences that feed our collective soul.
If you haven't already, visit the JSO website to get your tickets to this rousing event! If you're interested in establishing your own fund to support any of our region's nonprofit institutions, reach out to CFA Development Director Paula Hencel: (814) 209-8663 / phencel@cfalleghenies.org.