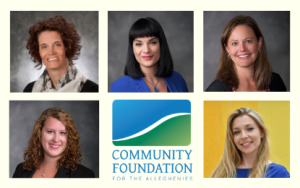 Community Foundation for the Alleghenies (CFA) has added and restructured staff to build a stronger foundation, poised to grow.
In addition to managing an increasing number of donor funds, the Foundation is working to infuse larger investments into the community, including an upcoming announcement of nearly $1.5 million in new funding opportunities that target key areas for long-term, sustainable growth.
CFA board members and staff have spent the last few months working with a third-party consultant to restructure staff, build the Foundation's capacity, and allow the Foundation to take advantage of momentum that donors have created. Over the past several years, the Foundation has grown to over $72 million in assets and more than 700 funds that benefit a wide spectrum of causes to strengthen communities in Bedford, Cambria, Somerset, and Indiana counties and beyond.
"This is the right time for the Foundation to do even more to build a culture of philanthropy and to help our donors create resources to support our region—now and far into the future," CFA President and Executive Director Mike Kane says. "To do this, we need to be positioned to respond to donors' interests as effectively as possible."
Staff changes include promotions for Katrina Perkosky, now Director of Donor Services, and Marisa Lehman, now Donor Services Associate. They also include the creation of two full-time positions that mark a first in the Foundation's history: a full-time program officer, Angie Berzonski, and a full-time communications officer, Kecia Bal. The Foundation also is adding a new full-time administrative and technology specialist position, and Executive and HR Assistant Stephanie Daniels' position will grow to full time.
Once the promotions and hires are finalized, the Foundation will have expanded from five full-time/six part-time employees to eight full-time/three part-time employees.
"Our restructuring results in not only a well-positioned staff, but also an increase in our overall workforce," Kane adds. "Coupled with new, expanded and updated offices, the changes reflect the Foundation's continued support in the community, the successes of our nonprofit partners, and the ongoing commitment of our donors to invest in causes they care about and communities they love."
The restructuring guides the Foundation to an optimal position where the Foundation, donors, and the community are aligned and ready to flourish. Already, CFA ranks 31st nationally in transactions—grants, scholarships, and expenses invested—in the most recent survey open to all community foundations in the country. Based on the region's population, the Foundation received $44.25 per capita in donations in the most recent survey, compared to $28 per capita in similarly situated community foundations.
"This wouldn't be possible if donors didn't recognize the value of partnerships," Kane says. "At the Foundation, we are very grateful to be able to help donors make meaningful, lasting change in our communities."